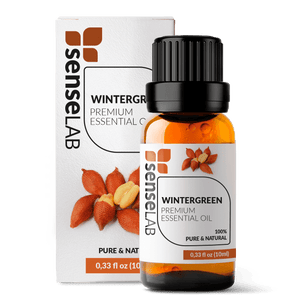 SenseLAB
Wintergreen Essential Oil
Regular price
Sale price
66,00 lei
Tax included.
---
Gaultheria procumbens
Plant and Oil Description
With its minty fresh fragrance and flavor, you'd think wintergreen was part of the mint family. This aromatic oil is derived from the leaves of the evergreen shrub Gaultheria, native to North America (Gaultheria procumbens) and Asia (Gaultheria fragrantissima). Its active ingredient, methyl salicylate, is closely related to aspirin, and in fact just one milliliter of wintergreen essential oil is equivalent to six aspirin tablets. (Note: SenseLAB does not recommend consuming essential oils.)
What's it Good For?
Wintergreen oil is very strong and should always be used in modest amounts and diluted with a carrier oil when applied to the skin.
Pain relief

 

– Use our wintergreen essential oil in a massage, added to an ointment, or in a warm compress to relieve pain caused by muscle strains, lower back pain, and even headaches! 
Antibacterial properties

 

– One study showed that wintergreen oil compared similarly to antibiotics against Borrelia burgdorferi, which causes Lyme disease. 
Skin and hair care

 

– Banish dandruff, athlete's foot, and body acne with a well-diluted solution using

 

SenseLAB wintergreen essential oil! Its astringent, antiseptic, and antifungal properties are fantastic natural solutions to these everyday ailments. 
Stress relief

 

– Picture yourself in a lush forest of evergreens when you add just a few drops of our essential oil into a diffuser or vaporizer. The sweet, minty smell will refresh your home while also helping to relieve stress, ease tension, and support relaxed breathing. 
Cleaning

 

– Our wintergreen essential oil can even be used around the house, from its aromatic properties to rust remover and degreaser.
How to Use It?
Diffusion: add --- drops to a diffuser or vaporizer
Massage: dilute 2 drops in 10 drops of a carrier oil
Skin and hair care: add x drops well-diluted in water, body wash, or shampoo
Cleaning: 
Pairs well with: peppermint, lavender, eucalyptus, ylang ylang, basil, oregano, thyme, and lemongrass
Carrier oils: jojoba, argan, aloe vera, hemp, sweet almond, rosehip, apricot kernel, coconut, olive, grape seed, avocado, sunflower.
Note: SenseLAB does not recommend using essential oils in food. Wintergreen oil in particular can be toxic when ingested, as it contains compounds similar to aspirin.
How it's made?
It takes approximately 4 pounds of wintergreen leaves to produce 10 ml of pure SenseLAB Wintergreen Essential Oil.
Wintergreen Essential Oil Physical Properties
Our carefully crafted Wintergreen Essential Oil is steam distilled from the deep green, minty leaves of the small, evergreen Gaultheria procumbens shrub growing in the high elevations of the Himalayan Mountains of Nepal. 
Origin: Nepal
Parts used: Leaves
Extraction method: Steam distilled
Note classification: Middle
Appearance: Pale yellow to pinkish yellow colored liquid
Blend ideas of Wintergreen Essential Oil
Wintergreen blends well with Cypress, Sandalwood, Rosemary, Frankincense, Orange, Ginger, Peppermint, and Cinnamon oil.
SenseLAB "Camping Mood" Signature Blend: 
2 drops Wintergreen
2 drops

 

Cypress
2 drops

 

Pine Needle
3 drops

 

Citronella
SenseLAB "Arthritis – Joint pain - Inflammation" Signature Blend: 
2 drops Wintergreen
2 drops Frankincense
2 drops Peppermint
2 drops Rosemary
2 drops Eucalyptus 
2 drops Cypress
Top off with Carrier Oil
SenseLAB "Stars in the Sky" Signature Blend: 
3 drops Wintergreen
2 drops Ylang-Ylang
1 drop Roman Chamomile
SenseLAB "Refrehsments" Signature Blend: 
4 drops Wintergreen
4 drops Spearmint
1 drop Cedarwood
SenseLAB "Rainbow" Signature Blend: 
3 drops Wintergreen
4 drops Lime
1 drop Sandalwood
1 drop Fennel
Cautions / Safe use
These statements have not been evaluated by the Food and Drug Administration. This product is not intended to diagnose, treat, cure, or prevent disease.
Possible skin sensitivity. Keep out of children. If you are pregnant, nursing, or under a doctor's care, consult your physician. Avoid contact with eyes, inner ears, and sensitive areas.