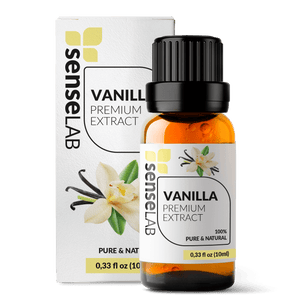 SenseLAB
Vanilla Oil
Regular price
Sale price
78,00 lei
Tax included.
---
Vanilla planifolia
Plant and Oil Description
Vanilla planifolia is a vine native to the tropical regions of Mexico, Tahiti, Indonesia, and Madagascar. Vanilla extract is sourced from the fruit of the plant, which are long pods that are cured and dried once they reach maturity; in fact, vanilla gets its name from the Spanish word "vaina", meaning "little pod". The creamy, exotic scent of vanilla makes it extremely popular for use in beauty products, home fragrances, and nearly all assets of everyday life. SenseLAB's vanilla oil is made using our signature fractionated coconut oil, so it's packed full of nutrients and has a lightweight moisturizing benefits in addition to the healing properties of vanilla extract.
What's it Good For?
Carrier oil

 

– Because SenseLAB designs its vanilla oil using our patented fractionated coconut oil, it is ready to apply directly to the skin without further dilution. This means you can actually use our vanilla oil as a carrier oil to help dilute stronger essential oils that are too strong to apply to the skin on their own. Lavender, manuka, anise, and ylang-ylang oils all offer complementary aromas that pair excellently with our vanilla oil.
Stress and anxiety

 

– Research suggests that aromatherapy treatments with

 

vanilla oil may help stabilize heart rates

 

and blood pressure levels, leading to decreased stress. Use in a massage, add to a diffuser, or apply to a tissue and inhale when on the go. Use with SenseLAB's rose oil, which also has demonstrated capabilities to diminish stress and anxiety.
Arthritis

 

– While not an anti-inflammatory, the relaxing properties of

 

SenseLAB's vanilla oil

 

have been used to study its effects on

 

relieving pain from arthritis

 

from an emotional and psychological standpoint. Combine with one of SenseLAB's anti-inflammatory essential oils—such as chamomile, rosemary, or basil—and gently massage the affected areas to relieve the inflammation while lowering high blood pressure and heart rate symptoms associated with arthritis pain.
Antiaging skin care

 

– With a wealth of nurturing components like antioxidants, B vitamins, and vanillin, your skin will thank you for including our

 

vanilla oil

 

in your daily skincare regimen. These key ingredients will help prevent skin damage by neutralizing free radicals and contributing to overall skin health. Apply directly as a serum or add to your regular daily moisturizer. Combine with rose geranium and juniper berry oils for even more antiaging skincare benefits.
How to Use It?
Use as a carrier oil to dilute stronger aromas. Inhale the fragrance from a diffuser, a tissue, or during a massage to relieve stress and anxiety. Use with an essential oil with anti-inflammatory properties to help alleviate pain from arthritis. Add to your regular moisturizer or use as a serum for antiaging skincare. Pairs well with lavender, manuka, anise, rose, chamomile, rosemary, basil, rose geranium, juniper berry, and ylang-ylang oils.
How it's made?
It takes approximately 7 pounds of vanilla pods to produce 10 ml of pure SenseLAB Vanilla Oil.
Vanilla Oil Physical Properties
Our carefully crafted Vanilla Extract Oil is produced by infusing our Vanilla planifolia in the luscious Coconut Oil. 
Origin: Mexico
Parts used: Pods (Fruits)
Extraction method: Infusion
Appearance: Golden to yellow brown colored liquid
Blend ideas of Vanilla Oil
Vanilla blends well with Lemon, Sandalwood, Vetiver, Frankincense, Cinnamon, Jasmine, Neroli, Patchouli, Clary Sage, and Clove.
SenseLAB "Sweetest Thing" Signature Blend: 
2 drops Vanilla
2 drops

 

Sandalwood
3 drops

 

Ylang-Ylang
SenseLAB "Winter Night" Signature Blend: 
6 drops Vanilla
6 drops Clove
4 drops Neroli
SenseLAB "Vanilla Latte" Signature Blend: 
2 drops Vanilla
2 drops Cinnamon
2 drops Cardamom
1 drop Ginger
1 drop Clove
SenseLAB "Lemon Pie" Signature Blend: 
2 drops Vanilla
1 drop Cedarwood
5 drops Lemon
SenseLAB "Cozy Evening" Signature Blend: 
3 drops Vanilla
3 drops Roman Chamomile
3 drops Sandalwood
2 drops Patchouli
6 drops Tangerine
Cautions / Safe use
These statements have not been evaluated by the Food and Drug Administration. This product is not intended to diagnose, treat, cure, or prevent disease.
Possible skin sensitivity. Keep out of children. If you are pregnant, nursing, or under a doctor's care, consult your physician. Avoid contact with eyes, inner ears, and sensitive areas. 
Good quality
I highly recommend it, it is one of my favourite scents, along with rosa damascena.
Very pleasant scent!