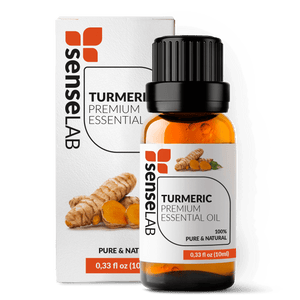 SenseLAB
Turmeric Essential Oil
Regular price
Sale price
64,00 lei
Tax included.
---
Curcuma longa
Plant and Oil Description
Harvested for its rhizomes, a plan stem that grows underground, turmeric has been used in traditional medicines for thousands of years. Modern medicine can now explain the compound in turmeric called curcumin, which is attributed to many benefits shown in ancient Ayurveda and Chinese medicines. Turmeric was also traditionally used to dye the robes of Hindu and Buddhist monks and priests, and was known as "Indian saffron" in Medieval Europe.
What's it Good For?
Anti-aging skin care

 

– Free radicals cause oxidative damage which causes premature aging and many diseases due to the damage to essential fatty acids, proteins, and DNA. The chemical structure of curcumin allows it to neutralize free radicals while also acting as a catalyst for the production of the body's antioxidant enzymes. Add SenseLAB's turmeric oil to a face moisturizer or carrier oil to protect skin from oxidative stress and keep it looking youthful and healthy.
Pain relief

 

– Curcumin is a powerful anti-inflammatory and has been used in Ayurveda and traditional Chinese medicines for thousands of years to treat ailments associated with localized inflammation. Apply our

 

turmeric oil

 

with a carrier oil to reduce the inflammation associated with sore muscles, overworked joints, bruises, and rheumatoid arthritis.
Massage

 

– Treat yourself to an invigorating massage with SenseLAB's turmeric oil. Turmeric oil may increase nitric oxide production, which stimulates circulation by increasing blood flow while lowering blood pressure. Massage into skin with a carrier oil to improve circulation and support overall cardiovascular health.
Skin irritation

 

– Our turmeric oil's natural anti-inflammatory properties make it an excellent choice for alleviating dry, irritated skin. Dilute SenseLAB's turmeric oil with a carrier oil or a mild lotion to clear up symptoms associated with rosacea, allergic reactions, and other irritating skin conditions.
Depression

 

– Multiple studies have provided promising results towards using curcumin to treat depression. Curcumin supports the production of the brain neurotransmitters serotonin and dopamine, in addition to boosting levels of brain-derived neurotropic factors also associated with depression. 
How to Use It?
Use in a diffuser or vaporizer to support a positive mood. Massage into skin with a carrier oil to stimulate circulation and decrease inflammation. Apply with a carrier oil or add to a moisturizer to soothe irritated skin and protect skin from damage caused by free radicals. Pairs well with ginger, sage, cinnamon, tangerine, orange, and neroli oils. 
How it's made?
It takes approximately 8 pounds of turmeric rhizomes to produce 10 ml of pure SenseLAB Turmeric Essential Oil.
Turmeric Essential Oil Physical Properties
Our carefully crafted Turmeric Essential Oil is steam distilled from the vivid orange rhizomes of the flowering Curcuma longa plant cultivated in the bright, sunny landscape of India.
Origin: India
Parts used: Rhizomes
Extraction method: Steam distilled
Note classification: Middle to Top
Appearance: Pale yellow to orange yellow colored liquid
Blend ideas of Turmeric Essential Oil
Turmeric blends well with Lemon, Sandalwood, Vetiver, Frankincense, Tangerine, Ginger, Ylang-Ylang, and Clove.
SenseLAB "Intensions" Signature Blend: 
3 drops Turmeric
2 drops

 

Ginger
1 drop

 

Tangerine
SenseLAB "Fall Leaves" Signature Blend: 
2 drops Turmeric
2 drops Patchouli
1 drop Peppermint
SenseLAB "Morning Boost" Signature Blend: 
3 drops Turmeric
4 drops Lemon
2 drops Frankincense
SenseLAB "Clear Air" Signature Blend: 
2 drops Turmeric
4 drops Spearmint
SenseLAB "Change your Ways" Signature Blend: 
2 drops Turmeric
2 drops Rosemary
2 drops Eucalyptus
Cautions / Safe use
These statements have not been evaluated by the Food and Drug Administration. This product is not intended to diagnose, treat, cure, or prevent disease.
Possible skin sensitivity. Keep out of children. If you are pregnant, nursing, or under a doctor's care, consult your physician. Avoid contact with eyes, inner ears, and sensitive areas.