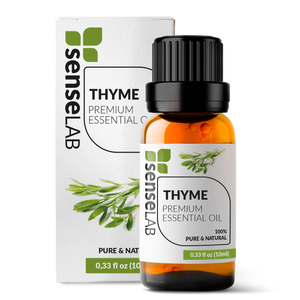 SenseLAB
Thyme Essential Oil
Regular price
Sale price
66,00 lei
Tax included.
---
Thymus vulgaris
Plant and Oil Description
Parsley, sage, rosemary, and thyme, these are a few of our favorite things at SenseLAB! Thyme essential oil comes from the flowering tops and leaves of the Mediterranean plant, Thymus vulgaris. Thyme has long been seen as a symbol of courage, and was used as incense in ancient Greek temples, placed underneath pillows to ward off nightmares in the Middle Ages, and it was common for women to present knights and warriors with gifts of thyme to aid them in battle. 
What's it Good For?
Courage

 

– Thyme has been used a symbol of courage throughout history. Add a few drops to a diffuser for an extra boost before taking on a particularly challenging day!
Hair loss

 

– One study showed that a mixture of thyme, rosemary, lavender, and cedarwood essential oils diluted in jojoba and grapeseed oil was a safe and effective treatment for preventing hair loss. Massage into scalp daily for best results.
Skin care

 

– Thyme has antiseptic properties and naturally works to stimulate circulation. Mix with grapefruit oil and/or oregano oil to clear up oily skin and reduce toxins. 
Oral health

 

– Anti-inflammatory and antibacterial properties make thyme great for oral health and fighting infections, and is an ingredient in a leading brand of mouthwash.
Sore muscles

 

– Thyme has a natural warming effect that makes it amazing for massages. What's more, it contains carvacrol and thymol, which promote muscle relaxation. Dilute with a carrier oil and combine with SenseLAB's rosemary and

 

sage essential oils

 

for optimum effect, as they also contain carvacrol and thymol. 
Mood and Focus

 

– Use our thyme and

 

lavender essential oils

 

in a massage to reduce exhaustion and depression, while improving memory and concentration.
How to Use It?
Bath: add 5-6 drops to a hot bath
Massage: dilute 2 drops in 10 drops of a carrier oil
Diffusion: add 3-4 drops to a diffuser
Skin care: add 2 drops diluted in witch hazel for a skin toner
Oral health: dilute 1 drop in water to use as a mouthwash
Pairs well with: lavender, grapefruit, cedarwood, rosemary, oregano, and sage
Carrier oils: jojoba, argan, aloe vera, hemp, sweet almond, rosehip, apricot kernel, coconut, olive, grape seed, avocado, sunflower 
How it's made?
It takes approximately 2 pounds of thyme leaves to produce 10 ml of pure SenseLAB Thyme Essential Oil.
Thyme Essential Oil Physical Properties
Our carefully crafted Thyme Essential Oil is steam distilled from the delicate, pale purple flowers and aromatic, green leaves of thyme herb cultivated in bright, sunny fields along the Spanish countryside.
Origin: Spain
Parts used: Leaves
Extraction method: Steam distilled
Note classification: Middle to Top
Appearance: Pale yellow to reddish brown colored liquid
Blend ideas of Thyme Oil
Thyme blends well with Rosemary, Sandalwood, Cardamom, Bergamot, Ginger, Black Pepper, Clary Sage, and Clove.
SenseLAB "Never Enough" Signature Blend: 
5 drops Thyme
4 drops

 

Grapefruit
3 drops

 

Lemongrass
SenseLAB "Garden Fresh" Signature Blend: 
2 drops Thyme
2 drops Rosemary
3 drops Spearmint
SenseLAB "Breathing" Signature Blend: 
1 drop Thyme
2 drops Peppermint
2 drops Lavender
2 drops Tea Tree
SenseLAB "Mountain Creek" Signature Blend: 
3 drops Thyme
3 drops Cedarwood
3 drops Lemon
3 drops Jasmine
SenseLAB "Fresh Air" Signature Blend: 
3 drops Thyme
3 drops Lime
2 drops Eucalyptus
Cautions / Safe use
These statements have not been evaluated by the Food and Drug Administration. This product is not intended to diagnose, treat, cure, or prevent disease.
Possible skin sensitivity. Keep out of children. If you are pregnant, nursing, or under a doctor's care, consult your physician. Avoid contact with eyes, inner ears, and sensitive areas.