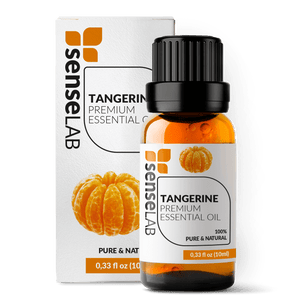 SenseLAB
Tangerine Essential Oil
Regular price
Sale price
64,00 lei
Tax included.
---
Citrus reticulata
Plant and Oil Description
Sweet and tangy, tangerines are a favorite among citrus lovers for their pleasing aroma, energizing properties, and natural skincare benefits. Tangerines are part of the mandarin orange family, which is one of the original citrus species from which other citrus fruits have been cultivated. The trees flourish in tropical and subtropical climates and produce fragrant white flowers. Tangerines have been used in traditional Chinese medicine to guide the life force known as "qi", as well as in Ayurvedic aromatherapy massages. 
What's it Good For?
Dark spot corrector

 

– A fun day in the sun exposes your skin to free radicals, which can damage your skin by creating dark spots, fine lines, and wrinkles. Potent antioxidants present in tangerine oil can help to reverse this damage by smoothing dark spots and creating a more even skin tone. Use in the evening as a spot-treatment, serum, or add to your regular evening moisturizer. The healing properties of frankincense, geranium, and lemon are excellent additions to creating your own dark spot correcting serum.
Acne scars

 

– The high antioxidant profile of tangerine oil makes it a must-have for smoothing out acne scars. Apply SenseLAB's tangerine oil in the evening after diluting in a noncomedogenic oil, such as

 

hemp seed essential oil, which won't clog pores.
Varicose veins

 

– Among other factors, such as genetics, varicose veins can be caused by poor circulation.

 

Tangerine oil

 

can be used to increase circulation and provide a holistic approach to treating varicose veins. Dilute our tangerine oil in a carrier oil and gently massage into the affected areas, apply an essential oil infused compress, or add to a bath. Combine with an anti-inflammatory essential oil, such as SenseLAB's chamomile or

 

ginger oils, to further help soothe varicose veins.
Focus and positivity

 

– The uplifting aroma of our

 

tangerine oil

 

might be just what you need to take on big projects and give yourself an energizing burst! Citrus oils are widely used in traditional practices and modern aromatherapy to stimulate positive energy. Add SenseLAB's tangerine oil to a diffuser, or dilute and massage into temples.
How to Use It?
Create your own serum or spot-treatment, or add to an evening moisturizer, to reduce the signs of dark spots and acne scars. To alleviate varicose veins, dilute in a carrier oil and gently massage into the affected areas, apply an essential oil infused compress, or add to a bath. Add to a diffuser or massage into temples with a carrier oil to improve focus and promote positivity. Pairs well with grapefruit, hemp seed, geranium, lemon, frankincense, neroli, chamomile, and ginger oils. 
Note: Citrus oils may cause photosensitivity, and should not be applied to the skin prior to sun exposure. 
How it's made?
It takes approximately 18 pounds of tangerine peels to produce 10 ml of pure SenseLAB Tangerine Essential Oil.
Tangerine Essential Oil Physical Properties
Our carefully crafted Tangerine Essential Oil is cold pressed from the tangy, sweet-smelling rinds of Citrus tangerina fruits cultivated in the sun-kissed orchards of India countryside.
Origin: Italy
Parts used: Peels
Extraction method: Cold-pressing
Note classification: Top
Appearance: Pale yellow to orange colored liquid
Blend ideas of Tangerine Essential Oil
Tangerine blends well with Lemongrass, Lime, Vetiver, Ylang-Ylang, Cinnamon, Bergamot, Orange, and Clove.
SenseLAB "Meditation" Signature Blend: 
2 drops Tangerine
2 drops

 

Frankincense
3 drops

 

Sandalwood
SenseLAB "Sunshine" Signature Blend: 
3 drops Tangerine
2 drops Spearmint
2 drops Lime
SenseLAB "Paris Nights" Signature Blend: 
2 drops Tangerine
2 drops Grapefruit
2 drops Lavender
SenseLAB "Summer Vibes" Signature Blend: 
2 drops Tangerine
2 drops Grapefruit
3 drops Spearmint
1 drop Bergamot
SenseLAB "Back to Life" Signature Blend: 
3 drops Tangerine
3 drops Clary Sage 
2 drops Basil
Cautions / Safe use
These statements have not been evaluated by the Food and Drug Administration. This product is not intended to diagnose, treat, cure, or prevent disease.
Possible skin sensitivity. Keep out of children. If you are pregnant, nursing, or under a doctor's care, consult your physician. Avoid contact with eyes, inner ears, and sensitive areas.