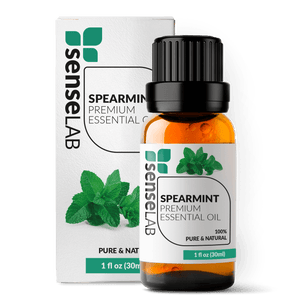 SenseLAB
Spearmint Essential Oil
Regular price
Sale price
55,00 lei
Tax included.
---
Mentha spicata
Plant and Oil Description
Spearmint is a species of the Mentha spicata mint family originating in the temperate climates of Europe and southern Asia. The plant produces fragrant white and pink flowers and the essential oil is derived from the pointed, spear-shaped leaves that give the herb its name. Records of its use date back to the 1st century AD in records from the naturalist Pliny, Aristotle, the Bible, and in ancient mythology. In colonial times, spearmint was among the few teas not taxed by the English and it became a staple during the American Revolution. Its high amounts of vitamins A and C made spearmint a powerful ally for treating and preventing scurvy.
What's it Good For?
From healthy bowels to contagious smiles, the versatility of SenseLAB's spearmint oil makes it a staple from the bathroom cabinet to the kitchen sink!
Breath freshener

 

– If the fresh, clean taste of spearmint alone hasn't yet sold you on its prowess as a powerful breath freshener, its antibacterial and antimicrobial properties should! These help kill the bacteria that cause bad breath, but they also work against harmful bacteria that cause foodborne illnesses, including E. coli and Listeria.
Antioxidant powerhouse

 

– It's a bonus that this natural flavor enhancer also profits from large quantities of potent antioxidants. Antioxidants—such as the vitamin A, vitamin C, rosmarinic acid, limonene, and menthol found in spearmint—help repair damage caused by free radicals that are linked to heart disease, cancer, and diabetes. 
Aromatherapy

 

–

 

Spearmint oil is an asset to any aromatherapy treatment. Its mild but energizing fragrance can be used as a mood uplifter and increasing concentration, and promote easier breathing by reducing excessive buildup phlegm and mucus in the nose and throat.
Digestive symptoms

 

– When applied topically, spearmint oil significantly reduces nausea and vomiting. One study demonstrated the effectiveness of spearmint oil for reliving digestive effects in chemotherapy patients. The anti-flatulence effects of spearmint are widely renowned for treating symptoms such as bloating, gas, abdominal pain, discomfort, and irritable bowel syndrome.
Pain relief

 

– Studies have shown spearmint oil to have pain-relieving effects and

 

can reduce joint stiffness. It has even been studied for its use in osteoarthritis patients as a safe and effective pain treatment option. 
Natural insecticide and pesticide

 

– Unlike synthetic insecticides and pesticides that tout toxicity and negative impacts on the environment,

 

spearmint oil

 

is a green alternative that is effective and safe at controlling insect populations. It

 

can be used for mosquito larvae

 

and adult moths. 
How to Use It?
Spearmint produces one of the milder oils within the mint family, making it a great choice for those who are sensitive to stronger aromas. For promoting healthy digestion, dilute 1 drop of spearmint in 4 oz of liquid. Use 1-2 drops to add a flavor upgrade to kitchen creations, such as desserts and marinades. For oral hygiene purposes, spearmint oil can be added directly onto toothbrush or diluted in water to use as a mouthwash. It can be added to an aromatherapy diffuser or vaporizer (3-4 drops), or mixed with a carrier oil to be added to baths or directly to the skin. Great choices for carrier oils to use with spearmint oil include lavender, lemon, rosemary, orange, basil, eucalyptus, and peppermint. 
How it's made?
It takes approximately 7 pounds of leaves to produce 30 ml of pure SenseLAB Spearmint Essential Oil.
Spearmint Essential Oil physical properties
Our carefully crafted Spearmint Essential Oil is steam distilled from minty green leaves of the Mentha spicata plant growing in USA. 
Origin: India
Parts used: Leaves
Extraction method: Steam distilled
Note classification: Top
Appearance: Pale yellow to greenish yellow colored liquid
Blend ideas of Spearmint Essential Oil
Spearmint blends well with Lemongrass, Sandalwood, Tangerine, Frankincense, Myrrh, Ginger, Black Pepper, Eucalyptus and Clove.
SenseLAB "Beach House" Signature Blend: 
2 drops Spearmint
2 drops

 

Eucalyptus
2 drops

 

Lime
2 drops

 

Cedarwood
SenseLAB "California Coast" Signature Blend: 
1 drop Spearmint
1 drop Frankincense
2 drops Lavender 
2 drops Orange
2 drops Cedarwood
SenseLAB "Lemonade" Signature Blend: 
1 drop Spearmint
1 drop Basil
4 drops Lemon
SenseLAB "Refresh Mint" Signature Blend: 
4 drops Spearmint
4 drops Wintergreen
1 drop Cedarwood
SenseLAB "Energy Boost" Signature Blend: 
2 drops Spearmint
2 drops Tangerine
2 drops Lemongrass
Cautions / Safe use
These statements have not been evaluated by the Food and Drug Administration. This product is not intended to diagnose, treat, cure, or prevent disease.
Possible skin sensitivity. Keep out of children. If you are pregnant, nursing, or under a doctor's care, consult your physician. Avoid contact with eyes, inner ears, and sensitive areas.