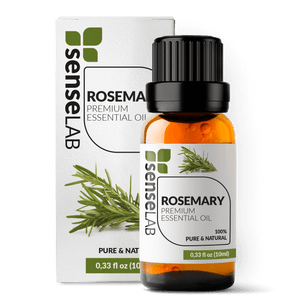 SenseLAB
Rosemary Essential Oil
Regular price
Sale price
45,00 lei
Tax included.
---
Rosmarinus officinalis
Plant and Oil Description
Needle-like leaves and small white, pink, blue, or purple flowers bedeck this earthy, aromatic herb. Rosemary, like basil, is part of the mint family. Interestingly, rosemary oil is not, strictly speaking, a true oil, because it contains no fat. The name of the plant comes from Latin "ros marinus", meaning "dew of the sea", reflecting its origins off the coast of the Mediterranean Sea. This extremely hardy herb can survive high temperatures and extensive draughts, and live for up to 30 years. Records of rosemary in ancient records have been found carved into stone tablets that date back to 5000 BCE.
What's it Good For?
Improving circulation

 

– Cold fingers and toes are the absolute worst. No matter how bundled up you are, sometimes these extremities just refuse to cooperate. Rosemary oil may help improve circulation by expanding blood vessels. Dilute with a carrier oil and massage into your feet and hands, then pull on some warm socks!
Pain relief and inflammation

 

– Research suggests that

 

rosemary oil

 

may be more effective for pain than acetaminophen. Rosemary oil can be used to alleviate pain and swelling from arthritis, sore muscles, and injuries. Dilute with a carrier oil and massage into sore muscles and joints. 
Hair growth

 

– Several studies have shown promising results for using rosemary oil to stimulate hair growth. Dilute with a carrier oil and gently massage into the scalp to help fight patchy hair loss. Combine with cedarwood, thyme, and lavender—which also stimulate hair growth—for best results.
Insect repellent

 

– Store-bought insect repellents have chemical additives that can be harmful to your health. Using a natural insect repellent, like SenseLAB's rosemary oil, is a safer alternative to chemical repellents. One study showed that a dilution of 12.5% rosemary oil repelled 100% of mosquitos for 90 minutes. As an insecticide, rosemary has shown to be effective against black-legged ticks and spider mites. 
How to Use It?
Apply to feet and hands with a carrier oil to improve circulation. Massage into sore muscles and joints to alleviate pain and inflammation. Massage into the scalp to stimulate hair growth. Apply to the skin with a carrier oil for homemade insect repellent. Pairs well with cedarwood, thyme, basil, black pepper, pine needle, and lavender oil.
How it's made?
It takes approximately 2 pounds of rosemary to produce 10 ml of pure SenseLAB Rosemary Essential Oil.
Rosemary Essential Oil Physical Properties
Our carefully crafted Rosemary Essential Oil is steam distilled from richly aromatic flowers, leaves, and twigs of the Rosmarinus officinalis grown in the Spanish countryside. 
Origin: Spain
Parts used: Leaves
Extraction method: Steam distilled
Note classification: Middle
Appearance: Colorless to pale yellow liquid
Blend ideas of Rosemary Essential Oil
Rosemary blends well with Lemon, Basil, Avocado, Frankincense, Cinnamon, Ginger, Oregano, Eucalyptus, and Clove.
SenseLAB "Breathe Easy" Signature Blend: 
2 drops Rosemary
1 drops

 

Peppermint
5 drops

 

Eucalyptus
5 drops

 

Tea Tree
SenseLAB "Clear Mind" Signature Blend: 
3 drops Rosemary
4 drops Copaiba
2 drops Peppermint
2 drops Clary Sage
SenseLAB "Calmness" Signature Blend: 
3 drops Rosemary
3 drops Grapefruit
2 drops Patchouli
SenseLAB "Morning Star" Signature Blend: 
2 drops Rosemary
2 drops Peppermint
4 drops Citrus Blend
SenseLAB "Immunity Boost" Signature Blend: 
4 drops Rosemary
4 drops Eucalyptus
3 drops Orange
2 drops Cinnamon
2 drops Clove
Cautions / Safe use
These statements have not been evaluated by the Food and Drug Administration. This product is not intended to diagnose, treat, cure, or prevent disease.
Possible skin sensitivity. Keep out of children. If you are pregnant, nursing, or under a doctor's care, consult your physician. Avoid contact with eyes, inner ears, and sensitive areas.