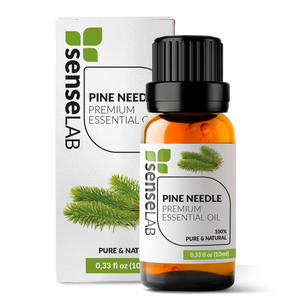 SenseLAB
Pine Needle Essential Oil
Regular price
Sale price
45,00 lei
Tax included.
---
Pinus sylvestris
Plant and Oil Description
Encompassing the essence of deep Eurasian forests, pine oil has long been used in Europe, where the tree has been known as the European redwood or Scotch fir. The tree can grow to over 150-feet tall and live for hundreds of years—with the oldest known specimen dated at over 760 years old. Records exist of the tree spreading across the British Isles after the Last Glacial Maximum, the most recent time period when ice sheets covered much of the Earth. Pine oil is derived from the aromatic needles of the pine tree, and has been used for centuries in traditional medicines.
What's it Good For?
Air freshener and aromatherapy

 

– Serenity in a bottle, our pine oil is perfect for refreshing stale rooms, covering up unpleasant odors, and promoting a relaxing environment. Add to a diffuser or make a room-freshening spray by diluting our pine oil in water to give any room an aromatic boost. Combine with complementary fragrances, such as sandalwood, eucalyptus, or

 

lemon oil

 

to create a more diverse aroma.
Sore muscles and arthritis

 

– Pine oil is a natural anti-inflammatory that can help relieve pain from sore muscles, arthritis, and other ailments. Dilute in a carrier oil and gently massage into the affected areas. Use with other essential oils that also have anti-inflammatory properties, such as ginger and

 

turmeric oil.
Rashes

 

– With combined antimicrobial and anti-inflammatory properties, pine oil has a reputation for helping to soothe itchy skin, especially for reactions to poison ivy. Dilute our pine oil in a carrier oil and consider adding juniper berry oil, which also contains constituents to help alleviate rashes.
Holiday scented candles

 

– SenseLAB's peppermint and pine oils are all you'll need to capture the essence of the holidays, and they make great gifts! Simply add our essential oils to melted soy wax, stir, and pour into a mason jar with a wick. Decorate your jar to make the candle extra festive for holiday gift giving!
How to Use It?
For air freshening and aromatherapy, add to a diffuser or make a room-freshening spray by diluting our pine oil in water. Dilute in a carrier oil and gently massage into sore muscles and areas affected by arthritis. Apply to rashes with a carrier oil to help provide relief from itchiness and inflammation. Create your own holiday scented candle for gifts and for use around the house by infusing soy wax with our essential oil. Pairs well with juniper berry, peppermint, ginger, turmeric, sandalwood, eucalyptus, and lemon oils.
How it's made?
It takes approximately 7 pounds of pine needles to make 10 ml of pure SenseLAB Pine Needle Essential Oil.
Pine Needle Essential Oil Physical Properties
Our carefully crafted Pine Needle Essential Oil is steam distilled from the lovely green needles and rich brown twigs of the Pinus sylvestris conifer growing wild in the forests of India.
Origin: India
Parts used: Needles
Extraction method: Steam distilled
Note classification: Middle
Appearance: Colorless to pale yellow liquid
Blend ideas of Pine Needle Essential Oil 
Pine Needle blends well with Cedarwood, Sandalwood, Peppermint, Frankincense, Cinnamon, Rosemary, Lavender, Clary Sage, and Clove.
SenseLAB "A Moment to Rest" Signature Blend: 
4 drops Pine Needle
4 drops

 

Cedarwood
4 drops

 

Frankincense
3 drops

 

Bergamot
2 drops

 

Lemongrass
1 drop

 

Jasmine
SenseLAB "Inhale Exhale" Signature Blend: 
3 drops Pine Needle
3 drops Lavender
3 drops Lemon
1 drop Peppermint
SenseLAB "Christmas is here!!!" Signature Blend: 
2 drops Pine Needle
2 drops Peppermint
3 drops Rosemary
SenseLAB "Mountain Log" Signature Blend: 
4 drops Pine Needle
5 drops Orange
8 drop Vanilla
3 drop Patchouli
SenseLAB "Winter Breeze" Signature Blend: 
3 drops Pine Needle
3 drops Cinnamon
3 drops Peppermint
3 drops Wintergreen 
Cautions / Safe use
These statements have not been evaluated by the Food and Drug Administration. This product is not intended to diagnose, treat, cure, or prevent disease.
Possible skin sensitivity. Keep out of children. If you are pregnant, nursing, or under a doctor's care, consult your physician. Avoid contact with eyes, inner ears, and sensitive areas.