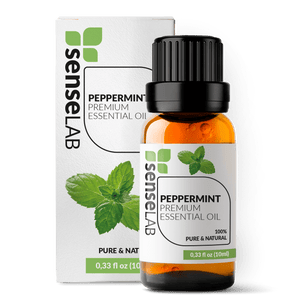 SenseLAB
Peppermint Essential Oil
Regular price
Sale price
45,00 lei
Tax included.
---
Mentha piperita
Plant and Oil Description
The strongest aroma of the mints, peppermint is a hybrid between spearmint and water mint. Like other members of the mint family, peppermint loves to grow in areas with lots of access to water and spreads rapidly once grown. The plant is usually sterile and therefore produces no seeds and spreads by using runners. It is native to Europe and the Middle East and has been found in Egyptian pyramids and in relics of the ancient Greeks and Romans. Peppermint oil is produced from the fragrant leaves of the plant, using a variety of distillation methods and extraction methods to perfectly harvest and preserve this sweet, powerful scent. 
What's it Good For?
 1. Sore throat – The high menthol content of our peppermint oil makes it a tremendous resource for combatting a sore throat. Add to a diffuser or hot bowl of water and inhale the steam; may also be added to a warm shower or bath. To further aid a sore throat, use with SenseLAB's lemon, black pepper, cardamom, or fennel oil, depending on the symptoms. 
 2. Hair growth – One study yielded promising results for using peppermint oil for growing thicker, longer hair. Researchers found that peppermint oil performed comparably to the leading commercial hair growth accelerator product. Dilute our peppermint oil with a carrier oil and gently massage the scalp, or add to your regular hair shampoo or conditioner. Combine with SenseLAB's basil or rosemary to maximize healthy hair growth. 
 3. Itchy skin – Several studies have demonstrated peppermint oil's capabilities to relieve itchy skin. Apply with a nourishing carrier oil and gently massage into the affected areas, allowing the oil to be fully absorbed into the skin. Consider adding juniper berry or rosehip oil, which also helps to heal dry, itchy skin.
 4. Rodent and insect repellent – The compound pulegone is an effective natural substance to use for repelling mosquitos and other pests, and also rodents. Its natural pesticide and rodent repellent properties make it safe to use in organic gardens and promote a more healthy, natural way of coexisting with environmental factors. Dilute with a carrier oil and apply to the skin to use as a mosquito repellent. Forwarding off pests and rodents, saturate a rice-filled sachet and place it around the home and garden. 
How to Use It?
Add to a diffuser or hot bowl of water and inhale the steam to alleviate a sore throat. Massage into the scalp with a carrier oil or add to your regular shampoo or conditioner to grow thicker, stronger hair. Apply with a carrier oil to itchy skin for soothing relief. Dilute with a carrier oil and apply to the skin to ward off mosquitos. Pairs well with juniper berry, rosehip, lemon, black pepper, cardamom, basil, rosemary, and fennel oils.
How it's made?
It takes approximately 2 pounds of peppermint leaves to produce 10 ml of pure SenseLAB Peppermint Essential Oil.
Peppermint Essential Oil Physical Properties
Our carefully crafted Peppermint Essential Oil is steam distilled from crisp, deliciously green leaves of the fragrant Mentha piperita plant cultivated in rich green fields in the countryside of India. 
Origin: India
Parts used: Leaves
Extraction method: Steam distilled
Note classification: Top
Appearance: Clear to pale yellow colored liquid
Blend ideas of Peppermint Essential Oil
Peppermint blends well with Myrrh, Sandalwood, Lemon, Rosemary, Cinnamon, Ginger, Tea Tree, Clary Sage, and Eucalyptus.
SenseLAB "Cold Buster" Signature Blend: 
4 drops Peppermint
3 drops

 

Lavender
2 drops

 

Eucalyptus
2 drops

 

Orange
SenseLAB "Strong Immunnity" Signature Blend: 
2 drops Peppermint
2 drops Eucalyptus
2 drops Lemon
1 drop Lime
1 drop Rosemary
1 drop Clove
SenseLAB "Study Time" Signature Blend: 
3 drops Peppermint
2 drops Frankincense
2 drops Rosemary
SenseLAB "Muscle Relief" Signature Blend: 
6 drops Peppermint
6 drops Turmeric 
6 drops Black Pepper
6 drops Lavender
50 ml Carrier Oil 
SenseLAB "Make a Wish" Signature Blend: 
2 drops Peppermint
2 drops Ylang-Ylang
2 drops Lavender
4 drops Grapefruit
Cautions / Safe use
These statements have not been evaluated by the Food and Drug Administration. This product is not intended to diagnose, treat, cure, or prevent disease.
Possible skin sensitivity. Keep out of children. If you are pregnant, nursing, or under a doctor's care, consult your physician. Avoid contact with eyes, inner ears, and sensitive areas.