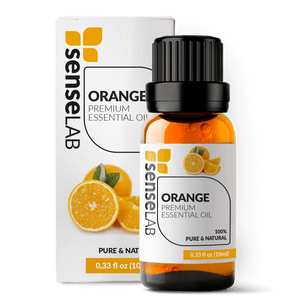 SenseLAB
Orange Essential Oil
Regular price
Sale price
45,00 lei
Tax included.
---
Citrus sinensis
What's it Good For?
Add a bit of sunshine to your day with SenseLAB's orange essential oil!
Energizing aromatherapy

 

– Reduce stress while you awaken your mind and increase your concentration by adding our

 

orange essential oil

 

to a diffuser or massage oil. Studies have shown its positive effects in

 

fighting anxiety

 

and effects on the prefrontal cortex of the brain, which is responsible for decision-making. Its energizing and uplifting properties will enable you to tackle anything that comes your way!
Skincare

 

– The sweet, citrus scent of our orange essential oil makes it a perfect addition to virtually anybody's care product. In addition, its potent

 

antimicrobial properties

 

have been used to

 

reduce acne

 

and

 

help control breakouts. Apply it topically with a carrier oil, lotion, body wash, or astringent for an extra burst of fragrance and to supply an uplifting energy boost to your day. 
Immune system

 

–

 

Strengthen your immune system, fight off colds, and promote overall health by adding our orange essential oil to a mug of tea or a glass of water. It's also a tasty addition to nearly any recipe, from fresh fruit smoothies to savory entrees!
Household cleaner

 

– Add SenseLAB's orange essential oil to any household cleaning product for a clean citrus smell. It can also be added directly to bathroom sinks and bathtub drains to remove unpleasant odors.
How to Use It?
It takes approximately 7 pounds of orange pods to produce 10 ml of pure SenseLAB Orange Essential Oil.
Orange Essential Oil Physical Properties
Orange oil is cold-pressed from the rind of the fruit. A fine oil is a pale yellow-red through orange-brown color with the same sweet, fresh, and fruity smell you get when you peel an orange.
Origin: Brazil
Parts used: Peels
Extraction method: Cold-pressing
Note classification: Top
Appearance: Yellow-red through to orange brown 
Blend ideas of Orange Essential Oil
Orange blends well with Lemon, Sandalwood, Vetiver, Frankincense, Cinnamon, Ginger, Black Pepper, Clary sage oil, and Clove.
SenseLAB "Stary Night" Signature Blend: 
4 drops Orange
3 drops

 

Basil
2 drops

 

Clary Sage
SenseLAB "Citrus Dream" Signature Blend: 
2 drops Orange
2 drops Bergamot
2 drops Lemon
SenseLAB "Rest & Relax" Signature Blend: 
2 drops Orange
3 drops Vetiver
2 drops Cedarwood
SenseLAB "Sweet Sunshine" Signature Blend: 
3 drops Orange
3 drops Grapefruit
1 drop Lemon
1 drop Bergamot
SenseLAB "Mellow" Signature Blend: 
2 drops Orange
4 drops Rosemary
3 drops Lavender
1 drop Peppermint
Cautions / Safe use
These statements have not been evaluated by the Food and Drug Administration. This product is not intended to diagnose, treat, cure, or prevent disease.
Possible skin sensitivity. Keep out of children. If you are pregnant, nursing, or under a doctor's care, consult your physician. Avoid contact with eyes, inner ears, and sensitive areas.