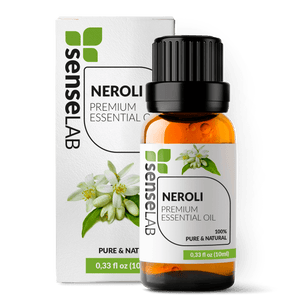 SenseLAB
Neroli Essential Oil
Regular price
Sale price
80,00 lei
Tax included.
---
Citrus aurantium var. amara
Plant and Oil Description
Combining a honey-like floral sweetness with a tart citrus tang, neroli oil is one of the most widely used floral oils in perfumes and is an aromatherapy staple for promoting relaxation. The oil is extracted from the blossoms of the bitter orange tree, Citrus aurantium. Orange essential oil is derived from the same tree, but comes instead from the fruit rind; because neroli comes from the flowers of the tree, it has a more floral scent than the orange essential oil, which is purely citrus. The blossoms must be picked just as they open, and it takes 1000 pounds of the flowers to produce just one pound of the essential oil. Neroli oil gets its name from a countess of Neroli in the mid-1600s, who is said to have worn her favorite scent as a perfume, used it in baths, and scented her gloves with the fragrance. 
What's it Good For?
SenseLAB's neroli oil can be used to nourish skin, diffuse stress, and treat a variety of women's health conditions.
Oily skin

 

– A wealth of antimicrobial, antifungal, and antioxidant properties make neroli oil a must-have for promoting healthy skin. Apply our neroli oil topically to fight breakouts and reduce skin irritation. It can be added to lotions or applied with a steam towel to open pores.
Blood pressure and Stress

 

– Breathing in neroli oil as a steam may help lower blood pressure, treat prehypertension, and lower stress. One study showing these effects used an aromatherapy blend of neroli (2%), lavender (20%), ylang-ylang (15%), and marjoram (10%).
Women's Health

 

– Studies have shown neroli oil to have mood balancing effects that positively affect women's-health conditions. Our neroli essential oil can be used to treat the common symptoms associated with premenstrual syndrome (PMS), such as pain, bloating, and irritability. Menopausal symptoms—including high blood pressure, stress, and low libido—will also benefit from neroli oil's relaxing effects. One study even showed that inhaling neroli oil helped to reduce anxiety and pain during the first stage of labor.  
How to Use It?
Add three drops of SenseLab's neroli oil to four cups of hot water; dip a washcloth in the mixture and place over the face to open pores and invigorate senses. Adding 1-2 drops to lotion or a carrier oil can also be used to promote healthy skin. 
Bath: add 3 drops to a hot bath
Massage: dilute 16-20 drops per 6 teaspoons of carrier oil
Diffusion: add 2 drops to a diffuser or vaporizer
Skin care: add 1-2 drops diluted in toner or liquid soap
Pairs well with: basil, lemon, grapefruit, lavender, ylang-ylang, and clove
Carrier oils: jojoba, argan, aloe vera, hemp, avocado, sweet almond, rosehip, apricot kernel, coconut, olive, grape seed, sunflower 
Note: The relaxing effects of neroli oil may act as a sedative, and, as such, it should not be used prior to completing tasks that require concentration.
How it's made?
It takes approximately 5 pounds of neroli flowers to produce 10 ml of pure SenseLAB Neroli Essential Oil.
Neroli Essential Oil Physical Properties
Our carefully crafted Neroli Essential Oil is steam distilled from the handpicked delicate white blossoms of Citrus aurantium var amara, growing in sun-bathed Moroccan citrus groves. 
Origin: Morocco
Parts used: Flowers
Extraction method: Steam distillation
Note classification: Top
Appearance: Pale yellow to amber colored liquid
Blend ideas of Neroli Essential Oil
Other essential oils that pair well with neroli oil include Patchouli, Ylang-Ylang, Lavender Cypress, and Copaiba.
SenseLAB "Summer Splash" Signature Blend: 
2 drops Neroli
2 drops

 

Grapefruit
3 drops

 

Lemon
3 drops

 

Rosemary
SenseLAB "Night Blossoms" Signature Blend: 
2 drops Neroli
2 drops Jasmine
2 drops Orange
2 drops Copaiba
2 drops Sandalwood
SenseLAB "Uplifting Mood" Signature Blend: 
3 drops Neroli
3 drops Orange
2 drops Lime
SenseLAB "XO" Signature Blend: 
2 drops Neroli
2 drops Orange
1 drop Patchouli
SenseLAB "Sweet Mary" Signature Blend: 
3 drops Neroli
1 drops Rose Damascena
1 drop Clary Sage
Cautions / Safe use
These statements have not been evaluated by the Food and Drug Administration. This product is not intended to diagnose, treat, cure, or prevent disease.
Possible skin sensitivity. Keep out of children. If you are pregnant, nursing, or under a doctor's care, consult your physician. Avoid contact with eyes, inner ears, and sensitive areas.