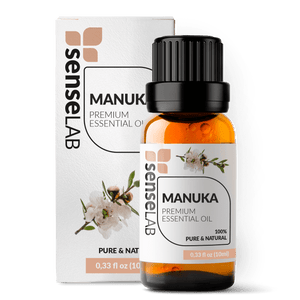 SenseLAB
Manuka Essential Oil
Regular price
Sale price
95,00 lei
Tax included.
---
Leptospermum scoparium
Plant and Oil Description
A flowering evergreen from Australia that produces beautiful white and pink blossoms, manuka is typically a shrub but can grow into a tree up to 50 feet tall. The essential oil is produced by the steam distillation of the plant's fragrant leaves. The 18th century British explorer Captain Cook used the leaves of the manuka tree to brew tea to ward off scurvy, which is why the plant is sometimes known as the "tea tree". The wood itself is extremely fragrant as well, and its sawdust is often used to impart flavor when smoking meats and fish. While originally from Australia, the tree is now most commonly found in New Zealand and is grown to produce its regional superfood, mānuka honey, which is harvested from honeybees who dine on the nectar of the manuka tree's flowers. 
What's it Good For?
Acne

 

– The antibacterial properties of manuka oil make it a fantastic addition to facial cleansers for oily skin types to help control the severity and frequency of breakouts. Add to your regular facial wash, and combine with SenseLAB's

 

orange oil

 

for a lightly floral and fruity morning wash.
Antifungal

 

– Particularly useful for toenail fungal infections, our manuka oil can help accelerate healing with its antifungal abilities. Dilute with a carrier oil and apply our SenseLAB's manuka oil to the affected area, allowing to oil to be absorbed into the skin for at least 10 minutes; may also be used in a foot bath. Repeat daily until a healthy nail has fully grown in and replaced the infected nail. Use with SenseLAB's

 

clove oil

 

for a stronger antifungal treatment. 
First Aid

 

– Manuka oil is a strong antiseptic that can help decrease the healing time of shallow wounds by warding off infection and soothing inflammation. Apply with SenseLAB's jojoba oil, which helps form a protective barrier around cuts and abrasions to provide protection against the elements and pollutants. 
Colds

 

– Add SenseLAB's manuka oil to a vaporizer, warm bath, or a bowl of hot water and breathe in the steam to help fight colds and the flu. As a natural antibacterial, manuka oil can help ease the symptoms associated with bacterial infections. Combine with our

 

anise oil, which is a natural source of shikimic acid—used by the pharmaceutical industry for treating influenza.
How to Use It?
Add to your regular facial wash to help control acne. Apply with a carrier oil or add to a foot bath to treat fungal infections. Dilute with jojoba oil to protect minor wounds and accelerate healing time. Breathe in the steam from a diffuser, warm bath, or hot bowl of water to alleviate symptoms of colds and the flu. Pairs well with orange, anise, clove, rose, pine, and jojoba oils. 
How it's made?
It takes approximately 7 pounds of manuka leaves and twigs to produce 10 ml of pure SenseLAB Manuka Essential Oil.
Manuka Oil Physical Properties
Our carefully crafted Manuka Essential Oil is steam distilled from the leaves of the flowering Leptospermum scoparium shrub.
Origin: New Zealand
Parts used: Leaves
Extraction method: Steam distilled
Note classification: Top to Middle
Appearance: Clear to pale yellow colored liquid
Blend ideas of Manuka Essential Oil
Manuka blends well with Eucalyptus, Lime, Vetiver, Frankincense, Grapefruit, Lavender oil, Lemon, Jasmine, and Clove.
SenseLAB "Keep Clam" Signature Blend: 
3 drops Manuka
2 drops

 

Lavender
2 drops

 

Frankincense
SenseLAB "Springtime" Signature Blend: 
2 drops Manuka
2 drops Bergamot
2 drops Frankincense
2 drops Roman Chamomile
SenseLAB "Clean" Signature Blend: 
2 drops Manuka
3 drops Eucalyptus
4 drops Lemon
SenseLAB "Sweet Surender" Signature Blend: 
3 drops Manuka
3 drops Jasmine
3 drops Sandalwood
SenseLAB "Mouth Wash" Signature Blend: 
2 drops Manuka
3 drops Tea Tree
1 drop Peppermint
Cautions / Safe use
These statements have not been evaluated by the Food and Drug Administration. This product is not intended to diagnose, treat, cure, or prevent disease.
Possible skin sensitivity. Keep out of children. If you are pregnant, nursing, or under a doctor's care, consult your physician. Avoid contact with eyes, inner ears, and sensitive areas.