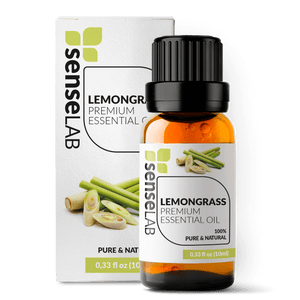 SenseLAB
Lemongrass Essential Oil
Regular price
Sale price
45,00 lei
Tax included.
---
Cymbopogon
Plant and Oil Description
Bring the scent and energy of the tropics to your day with SenseLAB's lemongrass oil. Native to Southeast Asia, its fragrant lemon-scented leaves have been used by indigenous groups culinarily and to treat a wide variety of ailments in traditional Ayurvedic medicine. Lemongrass is even used in the southern United States tradition of Hoodoo for kindling love affairs and for protection against evil. 
What's it Good For?
Headaches and migraines

 

– Headaches and migraines are triggered by blood platelets clumping together and low levels of the neurotransmitter serotonin. Lemongrass contains eugenol, a compound similar to aspirin that increases serotonin production and influences blood platelet action. When a migraine strikes, add our

 

lemongrass oil

 

to a massage oil, bath, diffuser, or vaporizer for relief.
Healthy gums

 

– Antioxidants in addition to antibacterial and anti-inflammatory properties work together to help treat and prevent gum inflammation. Using a lemongrass-infused mouthwash in addition to your regular dental hygiene routine can ward off help to ward off the leading gum disease, gingivitis.
Stress and anxiety

 

– When inhaled or absorbed through the skin, lemongrass interacts with the brain's limbic system, which stimulates the central nervous system. Add SenseLAB's lemongrass essential oil to a diffuser, vaporizer, or massage oil to help relieve anxiety, lower blood pressure, and decrease overall stress.
Antiseptic and insect repellent

 

–

 

SenseLAB's lemongrass oil

 

can be used to create all-natural homemade antiseptic soaps, disinfectants, and insect repellents. Lemongrass is harvested commercially to extract citronella oil, widely used as a mosquito repellent in insect sprays and candles. In addition, citronella contains antiseptic properties that make it a popular ingredient for commercially-produced household disinfectants and soaps. 
How to Use It?
Add our lemongrass oil to mouthwash to help protect gums against the leading gum disease, gingivitis. Make all-natural insect repellent sprays and candles. Create your own homemade antiseptic soaps and disinfectants. Add to a massage oil, bath, diffuser, or vaporizer to relieve migraines. Pairs well with spearmint, rosemary, ginger, eucalyptus, patchouli, and cedarwood oil.
How it's made?
It takes approximately 2 pounds of lemongrass to produce 10 ml of pure SenseLAB Lemongrass Essential Oil.
Lemongrass Essential Oil Physical Properties
Our carefully crafted  Lemongrass Essential Oil is steam distilled from the rich, spicy green grasses of the Cymbopogon flexuosus plant cultivated in the rural countryside of southern India. 
Origin: India
Parts used: Leaves
Extraction method: Steam distilled
Note classification: Middle to Top
Appearance: Pale yellow to orange yellow colored liquid 
Blend ideas of Lemongrass Essential Oil
Lemongrass blends well with Eucalyptus, Sandalwood, Patchouli, Frankincense, Cinnamon, and Clary Sage.
SenseLAB "Spring Boost" Signature Blend: 
3 drops Lemongrass
3 drops

 

Tangerine
3 drops

 

Spearmint
SenseLAB "Peace Out" Signature Blend: 
5 drops Lemongrass
3 drops Clary Sage
2 drops Patchouli
SenseLAB "Date Night" Signature Blend: 
2 drops Lemongrass
2 drops Frankincense
3 drops Clove
SenseLAB "Peace & Quiet" Signature Blend: 
2 drops Lemongrass
2 drops Jasmine
2 drop Frankincense
SenseLAB "Breath Easy" Signature Blend: 
2 drops Lemongrass
2 drops Eucalyptus
2 drops Lavender
Cautions / Safe use
These statements have not been evaluated by the Food and Drug Administration. This product is not intended to diagnose, treat, cure, or prevent disease.
Possible skin sensitivity. Keep out of children. If you are pregnant, nursing, or under a doctor's care, consult your physician. Avoid contact with eyes, inner ears, and sensitive areas.