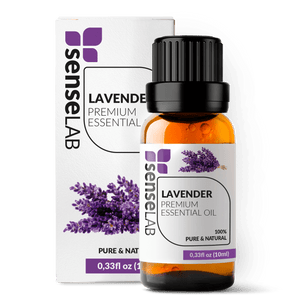 SenseLAB
Lavender Essential Oil
Regular price
Sale price
62,00 lei
Tax included.
---
Lavandula angustifolia
Plant and Oil Description
This subtly sweet Mediterranean plant has been coveted throughout the ages for its healing properties and aromatic essence. The powerful medicinal properties of lavender earned it the name "Lavandula officinalis" in Medieval Latin, a designation for plants and other organisms used in medicine and herbalism in ancient times. In the culinary world, lavender flowers are used to create the North American version of the French herb blend, herbes de Provence. Lavender grows on tall spikes with narrow, evergreen leaves and fragrant purple blossoms that exude sweet floral notes when they blossom into maturity in early summer. The flowers are collected and steamed in a boiler to create the essential oil, which is used extensively worldwide to create perfumes, enhance skincare products, and bring its unique qualities to aromatherapy sessions.
What's it Good For?
Oily skin

 

– Lavender is an effective antibacterial that is perfect for managing oily skin and controlling breakouts! Create your own astringent using SenseLAB's lavender oil and witch hazel. You can also add our lavender oil to your regular facial wash, or create a spot-treatment by diluting our lavender oil with a non-comedogenic carrier oil that won't clog pores, such as

 

SenseLAB's hemp seed oil. Combine with SenseLAB's juniper berry oil, which also works to reduce blemishes.
Moths

 

– Ward off pesky clothing moths while also infusing your linens and clothes with the gentle aroma of

 

SenseLAB's lavender oil. Moths love to chow down on wool and other natural fibers, ruining your possessions with holes. Luckily, all-natural lavender oil can be used toward these pests off! Simply add a drop or two to cotton balls, or make your own lavender satchel using rice, lavender oil, and a breathable cloth material to hold it together. Add the satchels to your dresser drawers, closets, storage boxes, or anywhere moths tend to gather.
Painful sunburns

 

– Sun rays feel great on your skin until you realize you've been burned! Lavender oil has numbing, pain-relieving effects, while also containing the potent anti-inflammatory agent, beta-caryophyllene. Mix our lavender oil with aloe vera oil and a nourishing carrier oil, and gently apply to the affected areas until the sunburn heals.
Migraines and headaches

 

– Making sure you're fully stocked with the essentials on-hand for migraines and headaches before they strike is key for helping to control them. Studies have shown that inhaling lavender oil can both reduce the intensity of migraine pain and decrease the frequency of migraines. Add SenseLAB's lavender oil to a vaporizer, hot bath, or bowl of hot water and breathe in the vapor. Infuse with our lemongrass oil to further aid with migraine relief. 
How to Use It?
For oily skin types, combine with witch hazel to make your own astringent or add to your regular face wash. Create your own moth-repelling lavender satchels for use around your home, in storage, or to give as unique gifts. Apply with aloe vera and a carrier oil to help soothe painful sunburns. Add to a vaporizer, hot bath, or bowl of hot water to relieve pain from migraines and headaches. Pairs well with rose, bergamot, tangerine, juniper berry, aloe vera, hemp seed, and lemongrass oils. 
How it's made?
It takes approximately 2 pounds of lavender to produce 10 ml of pure SenseLAB Lavender Essential Oil.
Lavender Essential Oil Physical Properties
Our carefully crafted Lavender Essential Oil is steam distilled from stunning flowers of the Lavandula angustifolia plant growing in cascading purple fields in the Bulgarian countryside.
Origin: Bulgaria
Parts used: Flowers
Extraction method: Steam distilled
Note classification: Middle to Top
Appearance: Colorless to pale yellow clear, mobile liquid
Blend ideas of Lavender Essential Oil
Lavender blends well with Argan, Sandalwood, Vetiver, Frankincense, Cinnamon, Ginger, Cedarwood, Orange, Clary Sage, and Clove.
SenseLAB "Grounded" Signature Blend: 
3 drops Lavender
2 drops

 

Frankincense
2 drops

 

Sandalwood
SenseLAB "Restful" Signature Blend: 
3 drops Lavender
3 drops Roman Chamomile
2 drops Clary Sage
SenseLAB "Seashore" Signature Blend: 
3 drops Lavender
3 drops Lime
3 drops Eucalyptus
SenseLAB "Stay Fresh" Signature Blend: 
3 drops Lavender
2 drops Neroli
1 drop Patchouli
SenseLAB "Forest Rainfall" Signature Blend: 
2 drops Lavender
2 drops Lemon
3 drops Grapefruit
3 drops Pine Needle
Cautions / Safe use
These statements have not been evaluated by the Food and Drug Administration. This product is not intended to diagnose, treat, cure, or prevent disease.
Possible skin sensitivity. Keep out of children. If you are pregnant, nursing, or under a doctor's care, consult your physician. Avoid contact with eyes, inner ears, and sensitive areas.