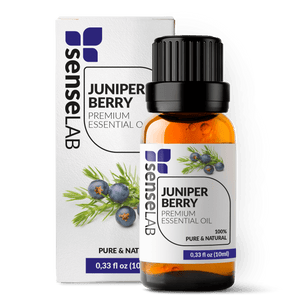 SenseLAB
Juniper Berry Essential Oil
Regular price
Sale price
72,00 lei
Tax included.
---
Juniperus communis
Plant and Oil Description
SenseLAB's juniper oil emanates not only a sweet and spicy, herbaceous aroma, but also provides phenomenal attributes for skin care. The essential oil comes from the deep blue, aromatic berries of the Juniper coniferous evergreen trees. Juniper is an incredibly hardy tree species that can be found from tropical Africa to the highest tree-lines on Earth in the Himalayan mountains. 
What's it Good For?
Youthful skin

 

– Juniper is high in vitamin C, flavonoids, and monoterpenes, which are beneficial for fighting free radicals, reducing cellular damage, and promoting collagen synthesis. Add a few drops of SenseLAB's juniper oil to your everyday lotions and creams to keep your skin looking young and beautiful. For an extra nourishing treatment, dilute in a nourishing carrier oil and apply directly to skin.
Dry skin and rashes

 

– The thujone found in juniper oil is beneficial for itchy skin, and is perfect for alleviating the irritation associated with dry skin, poison oak, and poison ivy rashes. Juniper berries also contain several types of monoterpenes that have anti-inflammatory properties to further soothe tender skin. Mix SenseLAB's juniper oil with a mild carrier oil and apply to the affected area as needed.
First aid

 

– Juniper may have antimicrobial benefits from the compound thujone, making it a potential catalyst for healing wounds, preventing infections, and decreasing inflammation. In addition, the monoterpenes found in juniper berries are known for their anti-inflammatory and antibacterial properties. 
How to Use It?
Dilute in a carrier oil and gently massage into skin to relieve itchy skin. Add a few drops to an everyday lotion or cream to protect and nourish skin. To enjoy the spicy earthy aroma, add to a diffuser or vaporizer. Pairs well with myrrh, cinnamon, clove, cedar, sandalwood, eucalyptus, and vanilla oil.
How it's made?
It takes approximately 2 pounds of juniper berries to produce 10 ml of pure SenseLAB Juniper Berry Essential Oil.
Juniper Berry Essential Oil Physical Properties
Our carefully crafted Juniper Berry Essential Oil is steam distilled from the stunning blue berries of the Juniperus communis evergreen tree cultivated in forested regions of Nepal.
Origin: Nepal
Parts used: Berries
Extraction method: Steam distilled
Note classification: Top to Middle
Appearance: Colorless to pale yellow liquid 
Blend ideas of Juniper Berry Essential Oil
Juniper Berry blends well with Lemon, Sandalwood, Vetiver, Frankincense, Grapefruit, Orange, Rosemary, and Clary Sage. 
SenseLAB "Morning Dew" Signature Blend: 
4 drops Juniper Berry
1 drop

 

Ylang-Ylang
3 drops

 

Clary Sage
SenseLAB "Icy Forest" Signature Blend: 
4 drops Juniper Berry
4 drops Grapefruit
3 drops Cypress
SenseLAB "Sweet Dreams" Signature Blend: 
2 drops Juniper Berry 
3 drops Copaiba
2 drops Clary Sage
SenseLAB "Humble Heart" Signature Blend: 
3 drops Juniper Berry
3 drops Frankincense
2 drop Patchouli
2 drop Pine Needle
1 drop Myrrh
SenseLAB "Alergy Relief" Signature Blend: 
2 drops Juniper Berry
2 drops Lavender
3 drops Bergamot
1 drop Peppermint
Cautions / Safe use
These statements have not been evaluated by the Food and Drug Administration. This product is not intended to diagnose, treat, cure, or prevent disease.
Possible skin sensitivity. Keep out of children. If you are pregnant, nursing, or under a doctor's care, consult your physician. Avoid contact with eyes, inner ears, and sensitive areas.