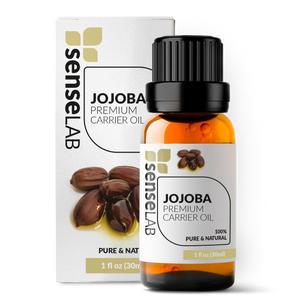 SenseLAB
Jojoba Oil
Regular price
Sale price
66,00 lei
Tax included.
---
Simmondsia chinensis
Plant and Oil Description
An ideal carrier oil for dry skin types, jojoba oil has a thick, waxy consistency that makes it incredible for protecting dry skin from the elements and for creating a barrier around damaged hair follicles. The jojoba plant grows up to 6.5-feet tall, bearing thick waxy leaves, acorn-like fruit, small greenish-yellow flowers without petals. Indigenous to the southwestern United States, Native Americans used jojoba on the skin and hair to treat ailments, such as burns, and preserve health. Jojoba oil was also used by tribes to soften and preserve animal hides and assist during childbirth. 
What's it Good For?
Carrier oil

 

– Many essential oils need to be diluted in a carrier oil so that they may safely be applied directly to the skin. Our jojoba oil is an excellent choice to use as a carrier oil, particularly for dry and sensitive skin types that need an extra layer of defense for protection against the elements.

 

Our jojoba oil is hypoallergenic and has no odor, making it safe for use on its own for skin that is easily irritated, or use it to perfectly distribute your favorite SenseLAB scents!
Dry skin

 

– A natural humectant,

 

SenseLAB's jojoba oil will help your skin retain its natural moisture—particularly beneficial in dry or windy conditions. It also contains the antioxidant vitamin E, to help your skin fight oxidative stress caused by free radicals, pollutants, and toxins. Our jojoba oil is noncomedogenic, so it won't clog pores and is safe for use on skin that is prone to breakouts. Apply our jojoba oil directly to the skin daily for the best results.
Haircare

 

–

 

Several studies have investigated the results of using jojoba oil as a hair moisturizer. Jojoba has shown success at helping to treat dandruff, dry and itchy scalps, and for providing nourishing benefits due to its surplus of vitamins and minerals, including vitamin C, B vitamins, vitamin E, copper, and zinc. Add our jojoba oil to your regular hair conditioner. Combine with

 

SenseLAB's peppermint oil

 

to also promote hair growth.
First aid

 

– The thick, waxy consistency of jojoba oil allows it to be used as a moisturizing barrier to protect from minor scratches, cuts, and burns. Keeping minor injuries hydrated and protected from bacteria is key to speeding up their recovery and reducing the appearance of scars. Use our jojoba oil to apply clary sage or jasmine oil, which have strong antibacterial properties to help ward off infections and accelerate healing.
How to Use It?
Use as a carrier oil for dry skin; hypoallergenic, odor-free, and noncomedogenic, our jojoba oil is safe for sensitive skin that is prone to breakouts. Apply directly to the skin daily for protection against the elements. Add to conditioner to help relieve dandruff, dry and itchy scalps, and for hydrating benefits. Apply to shallow cuts, scratches, and minor burns to protect from infection and accelerate healing. Pairs well with argan, avocado, clary sage, jasmine, and peppermint oil.
How it's made?
It takes approximately 16 pounds of jojoba seeds to make 30 ml of pure SenseLAB Jojoba Oil.
Jojoba Oil Physical Properties
Our carefully crafted Jojoba Oil is cold-pressed from the seeds of the Simmondsia Chinensis shrub, native to the arid California.
Origin: USA
Parts used: Seeds
Extraction method: Cold-pressing
Note classification: Carrier
Appearance: Pale yellow to bright golden-colored liquid
Blend ideas of Jojoba Oil
Jojoba blends well with Lemon, Sandalwood, Copaiba, Frankincense, Cedarwood, Lavender, Argan, Coconut, and Clove.
SenseLAB "Body Scrub" Signature Recipe: 
1 tbsp Jojoba
1 tbsp Almond
1 tbsp Lemon juice
2 tbsp Honey
1/2 c brown sugar
SenseLAB "Face Serum" Signature Recipe: 
1 tsp Jojoba
1 tsp Argan
1/2 tsp Rosehip
1/4 tsp Vitamin E
10 drops Lavender
10 drops Frankincense
5 drops Geranium
SenseLAB "Acne Away" Signature Recipe: 
30ml Jojoba
6 drops Frankincense
4 drops Lavender
2 drops Tea Tree
SenseLAB "Muscle Soothing Bath Salts" Signature Recipe: 
1/4 cup Jojoba
15 drops Eucalyptus
5 drops Peppermint
1 cup Epsom Salt
Small mason jar
SenseLAB "Under Eye Serum" Signature Recipe: 
3 drops Frankincense
3 drops Lavender
2 drops Lemon
2 drops Copaiba
Fill with Jojoba Oil
Cautions / Safe use
These statements have not been evaluated by the Food and Drug Administration. This product is not intended to diagnose, treat, cure, or prevent disease.
Possible skin sensitivity. Keep out of children. If you are pregnant, nursing, or under a doctor's care, consult your physician. Avoid contact with eyes, inner ears, and sensitive areas. 
Wonderfur
An oil that my skin loves.