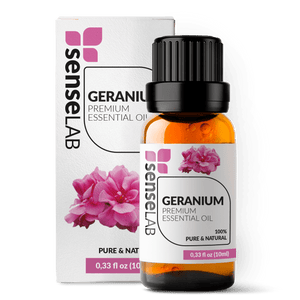 SenseLAB
Geranium Essential Oil
Regular price
Sale price
72,00 lei
Tax included.
---
Pelargonium graveolens
Plant and Oil Description
Originally hailing from southern Africa, rose geranium oil is widely used for repairing and restoring healthy skin, aromatherapy, and a variety of physical and mental health benefits. The plant blossoms with pale pink and white flowers, but the soft, velvety leaves are the source of the plant's rose-like floral aroma. Both the leaves and the flowers are edible and are often included in lavish desserts.
What's it Good For?
Oily skin

 

– Rose geranium oil can help control breakouts due to its antibacterial, antimicrobial, and antiseptic properties. Use SenseLAB's rose geranium oil as an astringent or to spot treat problem areas.
Anti-aging properties

 

– Rich in age-defying antioxidants, add SenseLAB's rose geranium oil to a facial lotion, serum, or carrier oil to help reverse the damage caused to your skin by free-radicals, environmental toxins, and exposure to sunlight. 
Anxiety and depression

 

– Clinical studies have shown that rose-like scents can lower anxiety levels, promote relaxation, and help foster a positive mood. In fact, hospitals have even studied the relaxing effect of rose geranium oil on women in first-stage labor. Add our rose geranium oil to a diffuser, warm bath, or massage oil when you need extra support during a stressful day.
Women's health

 

– Women suffering from reduced estrogen levels and other symptoms caused by menopause may benefit from aromatherapy treatment using rose geranium oil, which studies have shown increase levels of salivary estrogen.
Anti-inflammatory

 

– Rose geranium oil may soon be a staple in anti-inflammatory treatments! A recent study showed the oil to be effective at reducing swelling without the harmful side-effects caused by current pharmaceutical medications. Apply SenseLAB's rose geranium oil with a carrier oil to soothe irritated skin or sore muscles.
How to Use It?
Use as an astringent or as a spot-treatment to fight acne. Add to a facial lotion, serum, or carrier oil to benefit from our rose geranium oil's anti-aging properties. Add to a vaporizer or diffuser to lower anxiety, reduce depression, and support menopausal symptoms. Dilute in a carrier oil and apply to the skin for anti-inflammatory benefits. Pairs well with rose, lavender, ylang ylang, vetiver, sandalwood, bergamot oil, and patchouli oil.
How it's made?
It takes approximately 20 pounds of geranium plant matter to produce 10 ml of SenseLAB Geranium Essential Oil.
Geranium Essential Oil Physical Properties
Our carefully crafted Rose Geranium Essential Oil is steam distilled from the leaves and flowering tops of the Pelargonium roseum plant. 
Origin: Egypt
Parts used: Leaves and Tops
Extraction method: Steam distillation
Note classification: Middle to Top
Appearance: Pale yellow to greenish yellow colored liquid
Blend ideas of Geranium Essential Oil
Rose Geranium blends well with Roman Chamomile, Sandalwood, Vetiver, Frankincense, Cardamom, Avocado and Clary Sage.
SenseLAB "Flower Bliss" Signature Blend: 
2 drops Rose Geranium
2 drops

 

Grapefruit
2 drops

 

Lemon
SenseLAB "Tropical Sunrise" Signature Blend: 
2 drops Rose Geranium
3 drops Ginger
3 drops Orange
SenseLAB "Antidepressant" Signature Blend: 
3 drops Rose Geranium
3 drops Rose Damascena
4 drops Clary Sage
2 drops Frankincense
SenseLAB "Rose Jam" Signature Blend: 
6 drops Rose Geranium
4 drops Vanilla
2 drops Lemon
SenseLAB "Raindrops of Roses" Signature Blend: 
1 drop Rose Geranium
2 drops Tea Tree
2 drops Peppermint
3 drops Lemon
Cautions / Safe use
These statements have not been evaluated by the Food and Drug Administration. This product is not intended to diagnose, treat, cure, or prevent disease.
Possible skin sensitivity. Keep out of children. If you are pregnant, nursing, or under a doctor's care, consult your physician. Avoid contact with eyes, inner ears, and sensitive areas.