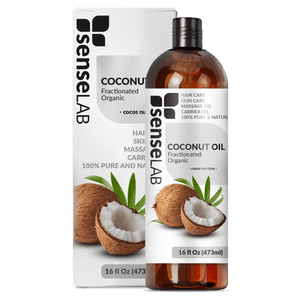 SenseLAB
Fractionated Coconut Oil
Regular price
Sale price
135,00 lei
Tax included.
---
Cocos nucifera
Plant and Oil Description
Coconut oil has recently seen a resurgence in the natural home-remedies sector, and for good reason! This gentle oil is packed with healthy fatty acids that make it incredibly versatile for everyday use. While traditional coconut oil is solid at room temperature and needs to be heated for most applications, SenseLAB's fractionated coconut oil has been carefully crafted so that it will stay in liquid form—so it's ready to use whenever you need it! 
What's it Good For?
Carrier oil

 

– Many essential oils need to be diluted in a carrier oil so that they may safely be applied directly to the skin. Our fractionated coconut oil is an excellent choice to use as a carrier oil, particularly for dry and sensitive skin types. The fractionization process removes the strong coconut scent, so you can blend the health benefits of coconut oil with your favorite scent!
Sensitive skin

 

– For those who love the fragrance of essential oils but are sensitive to stronger aromas, our fractionated coconut oil will allow you to enjoy your favorite essential oils without causing irritation. Simply add a few drops of stronger essential oils to our fractionated coconut oil, and enjoy!
Non-greasy facial oil

 

–

 

SenseLAB's fractionated coconut oil

 

is significantly more lightweight than virgin coconut oil, making it a superb facial oil for dry or sunburned skin. It's quickly absorbed into the skin, making it non-greasy and less likely to clog pores or cause breakouts.
Moisturizer

 

– Colorless, odorless, and incredibly lightweight, our fractionated coconut oil is perfect for everyday moisture needs. Its hydrating properties soften the skin, without leaving behind a greasy residue.
Haircare

 

– Tame frizzy and tangled hair with SenseLAB's fractionated coconut oil. Its potent supply of nutrients and antioxidants work to protect the hair follicle when added to a conditioner or used as leave-in hair oil. 
How to Use It?
Fractionated coconut oil is naturally mild and can be used directly on the skin or as a carrier oil when mixed with other, stronger aromas. Apply our fractionated coconut oil directly to the skin for a powerful moisturizer to relieve dry, itchy skin. Add it to your hair conditioner to nourish hair or use it as a leave-in hair oil to smooth unruly hair. Because the fractionization process removes all odors from fractionated coconut oil, it can be paired with any essential oil without compromising its fragrance.
Fractioned Coconut Oil Physical Properties
Our carefully crafted Fractionated Coconut Oil is obtained through fractionation of the sweet, delicious coconut kernel.
Origin: India
Parts used: Meat / Kernel
Extraction method: Fractionation
Note classification: Carrier
Appearance: Clear, colorless to slightly yellowish liquid
Blend ideas of Fractioned Coconut Oil
Because Fractionated Coconut Oil is colorless and odorless, it is perfect for blending with essential oils as it preserves and maintains its original fragrance and benefits.
SenseLAB "Headache Blend" Signature Blend: 
8 drops

 

Lavender
5 drops Marjoram
3 drops

 

Peppermint
30 ml Fractionated Coconut Oil
SenseLAB "Foaming Face Wash" Signature Blend: 
1/4 cup liquid castile soap
1 tsp Fractionated Coconut Oil
1 cup distilled water
10 drops lavender oil
SenseLAB "Facial Wipes" Signature Blend: 
Cotton rounds
1/4 cup liquid castile soap
1/4 cup fractionated coconut oil
1 cup rose water
SenseLAB "Body Wash" Signature Blend: 
2/3 cup liquid castile soap
1/4 cup Fractionated Coconut Oil
1/4 cup raw honey
1 tsp vitamin E oil
7 drops lavender oil
5 drops tea tree oil
Cautions / Safe use
These statements have not been evaluated by the Food and Drug Administration. This product is not intended to diagnose, treat, cure, or prevent disease.
Possible skin sensitivity. Keep out of children. If you are pregnant, nursing, or under a doctor's care, consult your physician. Avoid contact with eyes, inner ears, and sensitive areas.