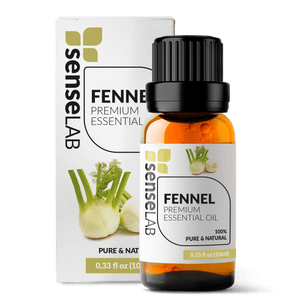 SenseLAB
Fennel Essential Oil
Regular price
Sale price
75,00 lei
Tax included.
---
Foeniculum vulgare
Plant and Oil Description
From the heart of the Mediterranean, this aromatic herb is actually part of the carrot family. The ancient Greeks and Romans used fennel extensively for its medicinal and aromatic properties. Prometheus, the Greek god of fire, is said to have stolen fire from the gods on Mount Olympus and delivered it to Earth by using a giant stalk of fennel. The intense, licorice-like aroma of fennel comes from the aromatic compound anethole, which also gives anise its fragrance. 
What's it Good For?
Nausea and constipation

 

– Fennel is a known remedy for indigestion and constipation relief. Apply

 

SenseLAB's fennel oil

 

to pressure points to calm the digestive tract and keep nausea at bay. Massage into the abdomen with a carrier oil to relieve constipation. Add to a diffuser or vaporizer when your stomach needs extra support.
Snoring

 

– The anti-inflammatory properties of fennel oil may help to improve airflow through the nasal passageways by reducing inflammation in the nose and throat. Add a few drops of SenseLAB's fennel oil to a bowl of boiling hot water, place a towel overhead, and deeply breathe in the steam.

 

SenseLAB's essential oil

 

can also be added to a hot bath or vaporizer to reduce snoring.
Insect repellent

 

– Store-bought insect repellents have chemical additives that can be harmful to your health. Using a natural insect repellent, like SenseLAB's fennel oil, is a safer alternative to store-bought chemical repellents. Dilute with SenseLAB's fractionated coconut oil and apply directly to skin to keep pests at bay.
Antioxidant powerhouse

 

– Antioxidants are important for reversing the damage caused by environmental toxins and free-radicals. Fennel contains over 87 volatile compounds with antimicrobial, antiviral, and anti-inflammatory properties. Add to a carrier oil and massage into skin for added protection against the harmful elements encountered in everyday life.
Oral health care

 

– Antibacterial properties make SenseLAB's fennel oil a great choice for an all-natural breath freshener! Add to an oral rinse or mouthwash to kill the bacteria that cause bad breath, cavities, and gum disease. 
How to Use It?
Massage into the abdomen with a carrier oil to relieve constipation. Apply to pressure points or add to a diffuser or vaporizer to reduce nausea. Apply to skin with a carrier oil for protection against harmful environmental elements and to use as an insect repellent. Add to a hot bath, bowl of steaming water, or vaporizer to reduce snoring. Pairs well with anise, ginger, clove, cinnamon, and clary sage oils. 
Apply to the skin with a noncomedogenic oil to reduce the appearance of acne. Breathe in the steam from a bowl of hot water or vaporizer to alleviate sore throats. Use in an aromatherapy session to reduce stress and anxiety, and support an overall balanced mood. Dilute with a carrier oil and apply to shallow wounds to help prevent infections. Pairs well with anise, ginger, clove, cinnamon, and clary sage oils. 
How it's made?
It takes approximately 6 pounds of fennel seeds to produce 10 ml of pure SenseLAB Fennel Essential Oil.
Fennel Essential Oil Physical Properties
Our carefully crafted Fennel Essential Oil is steam distilled from the small, aromatic seeds of the flowering Foeniculum vulgare dulce herb growing in the Austrian countryside. 
Origin: Austria
Parts used: Seeds
Extraction method: Steam distilled
Note classification: Middle to Top
Appearance: Colorless to pale yellow liquid
Blend ideas of Fennel Essential Oil
Fennel blends well with Jasmine, Sandalwood, Vetiver, Basil, Lavender oil, Ginger, Clary Sage, and Clove.
SenseLAB "Sweet Musk" Signature Blend: 
4 drops Fennel
3 drops

 

Lime
2 drops

 

Patchouli
SenseLAB "Sun Salutation" Signature Blend: 
4 drops Fennel
3 drops Spearmint
SenseLAB "Summer Nights" Signature Blend: 
2 drops Fennel
2 drops Bergamot
3 drops Sandalwood
SenseLAB "Fresh Vibes" Signature Blend: 
2 drops Fennel
2 drops Black Pepper
3 drops Lime
SenseLAB "Golden Sunshine" Signature Blend: 
1 drop Fennel
1 drop Cedarwood
2 drops Orange
5 drops Lemon
Cautions / Safe use
These statements have not been evaluated by the Food and Drug Administration. This product is not intended to diagnose, treat, cure, or prevent disease.
Possible skin sensitivity. Keep out of children. If you are pregnant, nursing, or under a doctor's care, consult your physician. Avoid contact with eyes, inner ears, and sensitive areas.