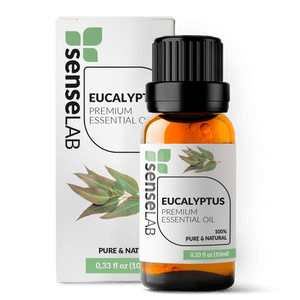 SenseLAB
Eucalyptus Essential Oil
Regular price
Sale price
66,00 lei
Tax included.
---
Eucalyptus globulus
Plant and Oil Description
Known as southern blue gum, this species of eucalyptus hails from southeastern Australia and has a wealth of traditional and modern-day uses. The tree can grow to over 300-feet tall and its leaves are steam distilled to produce its fragrant essential oil. The wood is commonly used to make the traditional Australian wood instrument, the didgeridoo after the tree is hollowed out by termites. In the Australian outback, eucalyptus trees have been shown to naturally draw up gold from tens of meters underground, and store tiny amounts of gold deposits in their leaves and branches. The clean, spring-like fragrance of the essential oil has made it a popular choice for enhancing modern soaps, detergents, housecleaning products, mouth rinses, and perfumes. 
What's it Good For?
Sinus congestion and coughing

 

– The main chemical component of eucalyptus oil has a wealth of homeopathic benefits for helping to ease sinus congestion. Our eucalyptus oil can be used to naturally suppress coughing and help open airways, while also clearing the air of bacteria and other harmful microbes. Add to a vaporizer or a bowl of hot water and breathe in the steam to help relieve sinus congestion and coughing. Use with SenseLAB's

 

tea tree oil

 

to decrease inflammation in the nasal passageways and clove oil for antispasmodic benefits.
Insect repellent

 

– Use our eucalyptus oil with SenseLAB's citronella, rosemary, and lemongrass oils to create a powerful insect repellent—especially effective for warding off mosquitos! Dilute with a carrier oil and apply to the skin prior to entering an area known for mosquitos and other biting pests. Can also be used to create a spray!
Healthy hair

 

– Our eucalyptus oil is a fantastic all-around resource for promoting healthy hair. A multitude of studies has shown that the anti-inflammatory, antifungal, and antiseptic properties of eucalyptus enable it to help stimulate the hair follicles, promote hair growth, alleviate itchy scalps and dandruff, and even treat head lice! Dilute with a carrier oil and massage into the scalp, or add to your regular shampoo or conditioner.
Clean fragrance

 

– Capture the essence of clean with SenseLAB's eucalyptus oil—perfect for boosting your home fragrance collection, laundry detergent, or soaps. Blend with complementary oils, such as SenseLAB's lemongrass, tangerine, spearmint, or

 

lavender oils, to customize your preferred scent. Create your essential oil blend then dilute in water for a room freshening spray, add directly to laundry detergent, or dilute in your regular hand soap or body wash. Makes a great personalized gift year-round!
How to Use It?
Add to a vaporizer or bowl of hot water and breathe in the steam to help relieve sinus congestion and coughing. Dilute with a carrier oil and apply to the skin to help ward off mosquitos. Dilute with a carrier oil and massage onto the scalp or add to shampoo or conditioner to promote healthy hair. Create your own springtime essential oil blend to use in a room freshening spray, laundry detergent, hand soap, or body wash. Pairs well tea tree, clove, citronella, rosemary, lemongrass, tangerine, spearmint, and lavender oils.
How it's made?
It takes approximately 7 pounds of leaves to produce 10 ml of pure SenseLAB Eucalyptus Essential Oil.
Eucalyptus Essential Oil Physical Properties
Our carefully crafted Eucalyptus Essential Oil is steam distilled from the long, green, waxy leaves of the Eucalyptus globulus trees growing wild in the forests of India.
Origin: India
Parts used: Leaves
Extraction method: Steam distilled
Note classification: Top
Appearance: Colorless to pale yellow liquid
Blend ideas of Eucalyptus Essential Oil
Eucalyptus blends well with Bergamot, Sandalwood, Peppermint, Frankincense, Cinnamon, Ginger, Orange, Clary Sage, and Clove.
SenseLAB "Care Free" Signature Blend: 
4 drops Eucalyptus
3 drops

 

Patchouli
2 drops

 

Bergamot
SenseLAB "Fresh Air" Signature Blend: 
2 drops Eucalyptus
2 drops Lavender
2 drops Lemon
SenseLAB "Immunity Booster" Signature Blend: 
1 drop Eucalyptus
1 drop Cinnamon
1 drop Rosemary
2 drops Lemon
2 drops Clove
SenseLAB "Soul Cleanse" Signature Blend: 
3 drops Eucalyptus
3 drops Bergamot
1 drop Tea Tree
SenseLAB "Uplift" Signature Blend: 
2 drops Eucalyptus
2 drops Spearmint
1 drop Tangerine
Cautions / Safe use
These statements have not been evaluated by the Food and Drug Administration. This product is not intended to diagnose, treat, cure, or prevent disease.
Possible skin sensitivity. Keep out of children. If you are pregnant, nursing, or under a doctor's care, consult your physician. Avoid contact with eyes, inner ears, and sensitive areas.