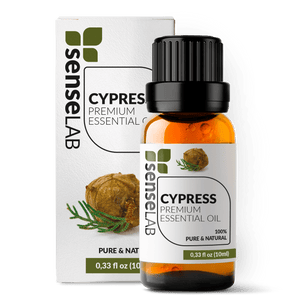 SenseLAB
Cypress Essential Oil
Regular price
Sale price
50,00 lei
Tax included.
---
Cupressus sempervirens
Plant and Oil Description
Cypress oil is made from the twigs, stems, and leaves of the Cupressus sempervirens Mediterranean cypress tree. This perennial evergreen tree can grow up to 115 feet tall, and can live to be over 1,000 years old. Its durable, scented wood was used to create the doors of St. Peter's Basilica in the Vatican City, Rome, and is a traditional choice of wood for Italian harpsichords. Cypress trees have a long history of symbolizing mourning; they are referenced throughout ancient mythology, are still one of the most popular trees used to decorate cemeteries. The clean, herbaceous scent of cypress oil reflects the evergreen trees from which it is extracted. 
What's it Good For?
Cypress oil has a wealth of cosmetic and medical treatment applications due to its antimicrobial, antibacterial, and antiviral benefits. 
Oily skin

 

– Cypress oil contains the monoterpene α-pinene, which helps clear blemishes and promote a healthy, glowing complexion. Its antibacterial properties make cypress oil a versatile, natural treatment option for many skin conditions.
Antimicrobial benefits

 

- Studies have shown that cypress oil strongly inhibits the growth of bacteria, making it a fantastic choice for treating cuts. Cypress oil should be diluted in a carrier oil prior to applying to wounds. It can also be added to hand soap and bodywashes. 
Antiviral properties

 

– Its antiviral properties make it exceptional for controlling warts caused by the human papillomavirus (HPV) and herpes simplex virus type 1 (HSV-1). Always check with a physician to diagnose warts before beginning any self-treatment regimen.
Mood Balancer

 

– Cypress oil was reported to reduce anxiety and depression levels in a widely cited clinical study. Mixing cypress oil with a carrier oil and adding it to a massage or diffuser could significantly reduce anxiety levels.
Cough suppressant

 

– Add cypress oil to a diffuser or warm bath to reap the benefits of camphene, a molecule found in natural cough suppressants. 
How to Use It?
Cypress oil is extremely mild and can be applied directly to the skin when mixed with a carrier oil. Add 1-2 drops to toner for blemish control or liquid soaps to take advantage of its antibacterial benefits. Add a few drops to a diffuser to produce a calming and invigorating environment. Citrus scents, such as lemon, lime, orange, and grapefruit, pair well with cypress oil to enhance its naturally woody and evergreen aroma. Avocado oil makes an excellent carrier oil to use with cypress oil.
How it's made?
It takes approximately 7 pounds of cypress leaves to produce 10 ml of pure SenseLAB Cypress Essential Oil.
Cypress Essential Oil Physical Properties
Our carefully crafted Cypress Essential Oil is steam distilled from the brightly aromatic cones, leaves, and twigs of the Cupressus sempervirens trees growing wild in the hills and mountains of Spain.
Origin: Italy
Parts used: Leaves
Extraction method: Steam distilled
Note classification: Middle
Appearance: Pale yellow to orange yellow colored liquid
Blend ideas of Cypress Essential Oil
Cypress blends well with Lemon, Rosemary, Cedarwood, Frankincense, Wintergreen, Ginger, and Rose Geranium.
SenseLAB "Cypress sunshine" Signature Blend: 
3 drops Cypress
4 drops

 

Orange
2 drops

 

Grapefruit
SenseLAB "Immunity Booster" Signature Blend: 
2 drops Cypress
2 drops Lemon
3 drops Peppermint
3 drops Eucalyptus
3 drops Rosemary
SenseLAB "Focus" Signature Blend: 
3 drops Cypress
3 drops Citrus
2 drops Bergamot
1 drop Frankincense
SenseLAB "Non-Attachment" Signature Blend: 
2 drops Cypress
3 drops Lemongrass
1 drop Oregano
SenseLAB "Christmas Spirit" Signature Blend: 
3 drops Cypress
2 drops Wintergreen
2 drops Pine Needle
Cautions / Safe use
These statements have not been evaluated by the Food and Drug Administration. This product is not intended to diagnose, treat, cure, or prevent disease.
Possible skin sensitivity. Keep out of children. If you are pregnant, nursing, or under a doctor's care, consult your physician. Avoid contact with eyes, inner ears, and sensitive areas.