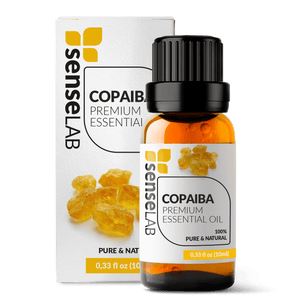 SenseLAB
Copaiba Essential Oil
Regular price
Sale price
66,00 lei
Tax included.
---
Copaifera officinalis
Plant and Oil Description
Copaiba trees of Central and South America are named for the aromatic tree resin that they produce, known as "copal". The resin is extracted from the tree by creating a hole in the trunk and draining it with a pipe. The essential oil then is made from this resin by a steam distillation process, resulting in an incredibly aromatic oil with a warm and woody scent, with soft notes of vanilla. The essential oil has been used since the 16th century in folk medicine by indigenous people of Central and South America to treat diseases, impart knowledge onto newborns, and ward off insects in the Amazon jungle.
What's it Good For?
Fragrances

 

– The warm, vanilla-like scent of copaiba oil makes it a popular choice for enhancing the aroma of lotions, soaps, hair products, deodorants, perfumes, and colognes. Dilute with an essential oil and pair with complementary fragrances. For a more masculine scent, blend with earthy scents such as SenseLAB's sandalwood, cedarwood, and vetiver oils. 
Arthritis

 

– Copaiba oil was utilized in a study that showed promising results for people suffering from arthritis and chronic inflammation, including improved finger dexterity, increased finger strength, and decreased pain. The study diluted copaiba oil with coconut oil and was massaged into the affected areas twice daily. Dilute our copaiba oil with SenseLAB's fractionated coconut oil and combine with essential oils that help with inflammation, such as rosemary or

 

chamomile oil.
Aphrodisiac

 

– Copaiba oil's luscious, comforting aroma can be used to help set the mood before a big date! Apply with a carrier oil or use a diffuser to disperse the aroma. Pair with other essential oils that have aphrodisiac qualities, including as SenseLAB's jasmine, vanilla, and

 

rose oil.
Antiaging skin care

 

– While the fragrance alone of our copaiba oil is enough reason to add it to your skin care routine, copaiba oil has been shown in laboratory studies to have antioxidant activity. The oil able to be utilized successfully to reduce the amount of oxygen radicals present, which can lead to cell damage and premature signs of aging. Add our

 

copaiba oil

 

to your regular facial moisturizer and use daily for maximum protection.
How to Use It?
Add to lotions, soaps, hair products, deodorants, perfumes, and colognes to infuse your favorite products with this luxurious aroma. Dilute with a carrier oil and massage into sore muscles and joints to reduce the pain and inflammation associated with arthritis and other chronic inflammation ailments. Add to a diffuser or dilute with an essential oil and apply before a date to help set a romantic tone for the evening. Add to your regular facial moisturizer for extra protection against oxidative damage. Pairs well with rosemary, chamomile, jasmine, vanilla, rose, sandalwood, cedarwood, and vetiver oils.
How it's made?
It takes approximately 0.5 pounds of copaiba resin to make 10 ml of pure SenseLAB Copaiba Essential Oil
Copaiba Essential Oil Physical Properties
Our carefully crafted Copaiba Essential Oil is steam distilled from the delicately wildcrafted amber-colored resin gathered from the trunks of the tropical evergreen Copaifera officinalis trees that grow deep in the rainforests of Brazil.
Origin: Brazil
Parts used: Resin
Extraction method: Steam distilled
Note classification: Base
Appearance: Pale yellow to brownish yellow colored liquid
Blend ideas of Copaiba Essential Oil
Copaiba blends well with Lemon, Orange, Vetiver, Jojoba, Cinnamon, Ginger, Lime, Clary Sage, and Ylang-Ylang.
SenseLAB "Sinus Booster" Signature Blend:
3 drops Copaiba
3 drops

 

Lemongrass
2 drops

 

Peppermint
2 drops

 

Roman Chamomile
1 drop Citrus Blend
SenseLAB "Fresh Start" Signature Blend:
4 drops Copaiba
4 drops Grapefruit
2 drops Cinnamon
SenseLAB "Wellness" Signature Blend:
3 drops Copaiba
2 drops Frankincense
2 drops Sandalwood
SenseLAB "Fast Breathing" Signature Blend:
2 drops Copaiba
2 drops Cardamom
3 drops Eucalyptus
SenseLAB "Sleepry Time" Signature Blend:
3 drops Copaiba
3 drops Cedarwood
3 drops Lavender
Cautions / Safe use
These statements have not been evaluated by the Food and Drug Administration. This product is not intended to diagnose, treat, cure, or prevent disease.
Possible skin sensitivity. Keep out of children. If you are pregnant, nursing, or under a doctor's care, consult your physician. Avoid contact with eyes, inner ears, and sensitive areas.