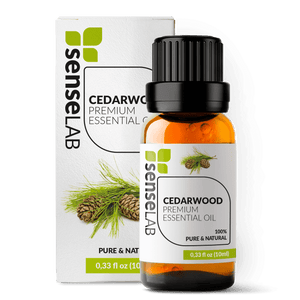 SenseLAB
Cedarwood Essential Oil
Regular price
Sale price
45,00 lei
Tax included.
---
Cedrus deodara
Plant and Oil Description
From big beautiful conifer evergreens, many of the trees used to produce so-called cedarwood oil are actually juniper trees! The oil itself comes from the needles, leaves, bark, wood, and roots of the trees through either steam distillation, carbon dioxide distillation, or cold pressing processes. Its warm, woody fragrance makes it a popular addition to colognes, shampoos, and deodorants. In the past, Ancient Egyptians used cedarwood oil during their embalming process to repel insects and help preserve their honored dead. 
What's it Good For?
Acne breakouts

 

– Anti-inflammatory and antimicrobial properties make cedarwood a fantastic treatment option for clearing up acne. Dilute with

 

hempseed essential oil, which is noncomedogenic and won't clog pores.
Anxiety and Insomnia

 

– Cedarwood oil contains the compound cedrol, which works as a sedative to help relieve anxiety and promote a healthy night's sleep for those suffering from insomnia. Add to a hot bath before bed, diffuser, or vaporizer to reap the aromatherapy benefits of SenseLAB's cedarwood oil.
Hair growth

 

– Cedarwood oil may help accelerate hair growth. One study performed by dermatologists demonstrated significant advances in hair growth when applying a mixture of a carrier oil and cedarwood, thyme, rosemary, and

 

lavender essential oils

 

to the scalp.
Pain relief

 

– As a powerful anti-inflammatory, our cedarwood oil can be used to ease the aches and pains caused by sore muscles and joints. Dilute with a carrier oil and massage into skin. The herbaceous, woodsy aroma of SenseLAB's cedarwood oil makes it a great addition to your favorite lotions, and it can be applied regularly for continuous pain relief.
Insect repellant

 

– Store-bought insect repellents have chemical additives that can be harmful to your health. Using a natural insect repellent, like SenseLAB's cedarwood oil, is a safer alternative to store-bought chemical repellents. Dilute with SenseLAB's fractionated coconut oil and apply directly to skin to keep pests at bay.
How to Use It?
Add to a shampoo or conditioner to help relieve dandruff and scalp eczema. Dilute with SenseLAB's fractionated coconut oil and apply to the skin for a natural insect repellent. Apply to hair with a carrier oil to help stimulate hair growth. Add to a diffuser, vaporizer, or hot bath for relief from anxiety and insomnia. Massage into skin with a carrier oil for sore muscles and joints. Pairs well with lemon, rosemary, lavender, hempseed, geranium, and eucalyptus oils. 
How it's made?
It takes approximately 4 pounds of cedarwood to produce 10 ml of pure SenseLAB Cedarwood Essential Oil.
Cedarwood Essential Oil Physical Properties
Our carefully crafted Cedarwood Essential Oil is steam distilled from the striking, rich wood of Cedrus deodara trees harvested wild in the forests of India.
Origin: India
Parts used: Wood
Extraction method: Steam distilled 
Note classification: Base
Appearance: Yellow to golden brown colored liquid 
Blend ideas of Cedarwood Essential Oil
Cedarwood blends well with Eucalyptus, Sandalwood, Orange, Frankincense, Cinnamon, Rosemary, and Jojoba.
SenseLAB "Peaceful Sleep" Signature Blend: 
2 drops Cedarwood
2 drops

 

Lavender
3 drops

 

Clary Sage
SenseLAB "Citrus Dream" Signature Blend: 
2 drops Orange
2 drops Bergamot
2 drops Lemon
SenseLAB "Morning in the Mountains" Signature Blend: 
3 drops Cedarwood
2 drops Lemon
1 drop Grapefruit
1 drop Rosemary
SenseLAB "Bedtime" Signature Blend: 
2 drops Cedarwood
2 drops Lavender
3 drops Bergamot
1 drop Frankincense
SenseLAB "Romance" Signature Blend: 
4 drops Cedarwood
3 drops Patchouli
3 drops Jasmine
Cautions / Safe use
These statements have not been evaluated by the Food and Drug Administration. This product is not intended to diagnose, treat, cure, or prevent disease.
Possible skin sensitivity. Keep out of children. If you are pregnant, nursing, or under a doctor's care, consult your physician. Avoid contact with eyes, inner ears, and sensitive areas.