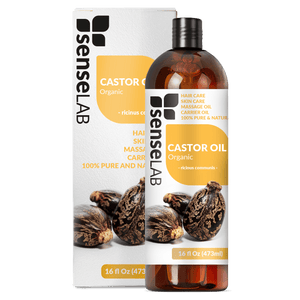 SenseLAB
Castor Oil
Regular price
Sale price
110,00 lei
Tax included.
---
Ricinus communis
Plant and Oil Description
Castor oil comes from the seeds of the Ricinus communis plant, which is native to the Mediterranean, Africa, and India. It was used by the ancient Egyptians for lamp fuel and to treat a variety of ailments. Its gentle, moisturizing properties make SenseLAB's castor oil an especially good choice for dry and sensitive skin types. Our castor oil is mild enough to use on its own as a carrier oil or mixed with stronger essential oils so that they can be safely applied to the skin.
What's it Good For?
Carrier oil

 

– Many essential oils need to be diluted in a carrier oil so that they may safely be applied directly to the skin. Our castor oil is an excellent choice to use as a carrier oil, particularly for dry and sensitive skin types!
Moisturizer

 

– Castor oil can be used as a humectant to create a barrier between the skin and the elements to help the skin retain moisture. By moisturizing with a natural substance such as

 

SenseLAB's castor oil, you reduce your exposure to preservatives and other potentially harmful additives in store-bought moisturizers. Try mixing our castor oil with almond, olive, or

 

coconut oil

 

for extra dry skin!
Hair conditioner

 

– Protect dry and damaged hair with SenseLAB's intensely

 

moisturizing castor oil. When used regularly, castor oil can protect the hair shaft to help prevent breakage. Castor oil's moisturizing properties also work to eliminate dandruff caused by dry, flaky scalp.
First aid care

 

– Using SenseLAB's castor oil on shallow wounds can help accelerate the healing process by stimulating tissue growth and decrease the risk of infection, reducing dryness, and preventing the buildup of dead skin cells.
Pain relief

 

and anti-inflammatory – Studies have demonstrated that the ricinoleic acid found in castor oil can significantly reduce inflammation and associated pain. This can be particularly helpful for those suffering from rheumatoid arthritis or psoriasis. 
How to Use It?
Castor oil is naturally mild and can be used directly on the skin or as a carrier oil when mixed with other, stronger aromas. Apply our castor oil directly to the skin for a powerful moisturizer to relieve dry, itchy skin. Use in a massage with one of our fragrant carrier oils to reap the rewards of castor oil's anti-inflammatory benefits. Castor oil pairs well with rose, patchouli, orange, neroli, rosemary, and peppermint oils.
How it's made?
It takes approximately 28 pounds of castor seeds to produce 473 ml of pure SenseLAB Castor Oil.
Castor Oil Physical Properties
Origin: India
Parts used: Seeds
Extraction method: Cold-pressing
Note classification: Carrier
Appearance: Almost colorless to slightly yellow viscous liquid
Blend ideas of Castor Oil
Castor oil blends well with Argan, Sandalwood, Peppermint, Lavender, Cinnamon, and Tea Tree.
SenseLAB "Cleansing Oil" Signature Recipe: 
15 ml Castor 
34 ml Organic

 

Fractionated Coconut Oil
8 drops

 

Grapefruit
0.5g High Strength Vitamin E 
SenseLAB "Hair Mask" Signature Recipe: 
2 tbsp Castor
2 tbsp Coconut 
SenseLAB "Hair Growth 1" Signature Recipe: 
2 tsp Castor
2 tsp Almond
2 tsp Coconut
2 tsp Olive
3 drops Lavender
1 tbsp Aloe Vera juice
Cautions / Safe use
These statements have not been evaluated by the Food and Drug Administration. This product is not intended to diagnose, treat, cure, or prevent disease.
Possible skin sensitivity. Keep out of children. If you are pregnant, nursing, or under a doctor's care, consult your physician. Avoid contact with eyes, inner ears, and sensitive areas.