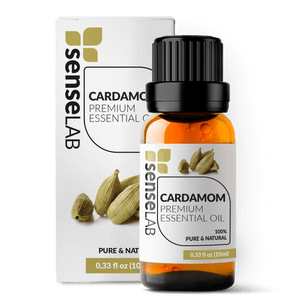 SenseLAB
Cardamom Essential Oil
Regular price
Sale price
93,00 lei
Tax included.
---
Elettaria cardamomum
Plant and Oil Description
Ancient Sankrit texts describe this spicy, nutty plant which has long since played a dominant role in Indian cuisine and culture. From its integration in Ayurveda medicine practices dating back to the 4th century, to traditional Indian curries and teas, this tropical plant has made its way into western culture due to its undeniably authentic aroma and positive homeopathic benefits. The plant boasts white to lilac floral blooms, but it's the seeds of the plant that are used to create both the aromatic spice and coveted essential oil. 
What's it Good For?
Improved breathing

 

– Aromatherapy treatments using cardamom may increase levels of oxygen uptake and relax the throat air passage. These benefits are particularly useful before performing cardiovascular exercises and for people who suffer from asthma attacks. Breathe in the steam from a diffuser or a bowl of hot water; combine with SenseLAB's black

 

pepper oil, which also works to open up airways. 
Anti-inflammatory

 

– Decrease muscle soreness, pain, and fatigue with an invigorating massage using SenseLAB's cardamom oil. Anti-inflammatory components in cardamom oil help relax overworked muscles by easing inflammation and associated pain. Dilute with a carrier oil and use in a massage, combine with

 

cedarwood oil

 

to increase anti-inflammatory capabilities.
Breath freshener

 

– Cardamom's antibacterial properties make it a natural breath freshener and a vital ingredient for warding off cavities and gum disease. Dilute our cardamom oil in water and use as an oral rinse. Add essential oils with similar antibacterial properties, such as SenseLAB's frankincense or

 

cinnamon oils, to create your own sophisticated aroma.
Antibacterial and antifungal

 

– A wealth of studies have shown cardamom oil's effectiveness at warding off bacterial and fungal infections. The versatility for essential oils with antibacterial properties are endless because of their ability to control foul odors and offer an extra layer of protection from potentially harmful elements. Add our cardamom oil to your regular hand soap, or make your own hand sanitizer using ethanol, tea tree oil, aloe vera, and fractionated coconut oil. To help eliminate body odor, in a cleansing footbath with

 

myrrh oil

 

or create your own deodorant with

 

tea tree oil.
How to Use It?
Open up airways and improve breathing by breathing in the infused steam from a diffuser or a bowl of hot water. Massage with a carrier oil to decrease inflammation and muscle pain. Dilute with water to use as an oral rinse. For antibacterial and antifungal benefits, use or cardamom oil to create your own hand sanitizer, footbath, or deodorant. Pairs well with cedarwood, cinnamon, black pepper, myrrh, frankincense, and tea tree oils.
How it's made?
It takes approximately 6 pounds of cardamom seeds to produce 10 ml of pure SenseLAB Cardamom Essential Oil.
Cardamom Essential Oil Physical Properties
Our carefully crafted Cardamom Essential Oil is steam distilled from the aromatic, flavorful seeds of the perennial Elettaria cardamomum plant native to Southern India.
Origin: India
Parts used: Seeds
Extraction method: Steam distilled 
Note classification: Middle
Appearance: Colorless to pale greenish yellow colored liquid
Blend ideas of Cardamom Essential Oil
Cardamom blends well with Cedarwood, Orange, Vetiver, Frankincense, Cinnamon, Lemon, Grapefruit, and Clove.
SenseLAB "Autumn Pie" Signature Blend: 
1 drop Cardamom
1 drop

 

Clove
1 drop

 

Nutmeg
1 drop

 

Orange
2 drops

 

Ginger
2 drops

 

Cinnamon
SenseLAB "Be Better" Signature Blend: 
2 drops Cardamom
2 drops Tangerine
2 drops Clove
3 drops Orange
SenseLAB "Breathe Easy" Signature Blend: 
2 drops Cardamom
2 drops Copaiba
3 drops Eucalyptus
SenseLAB "Roller Ball" Signature Blend: 
3 drops Cardamom
3 drops Cedarwood
2 drops Sandalwood
6 drops Patchouli
8 drops Bergamot
SenseLAB "Woderland" Signature Blend: 
3 drops Cardamom
2 drops Patchouli
2 drops Tangerine
Cautions / Safe use
These statements have not been evaluated by the Food and Drug Administration. This product is not intended to diagnose, treat, cure, or prevent disease.
Possible skin sensitivity. Keep out of children. If you are pregnant, nursing, or under a doctor's care, consult your physician. Avoid contact with eyes, inner ears, and sensitive areas.