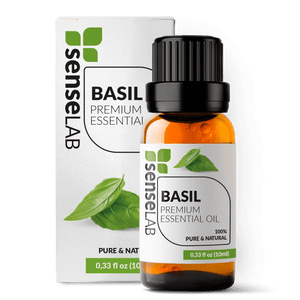 SenseLAB
Basil Essential Oil
Regular price
Sale price
66,00 lei
Tax included.
---
Basil Essential Oil
Plant and Oil Description
From mouthwatering pesto to traditional medicinal practices, basil is a favorite aromatic herb worldwide. The plant grows best in warm, tropical regions and is native to Africa and Southeast Asia. It is part of the flowering mint family, producing small ivory blossoms. Basil means "royal plant", named because its fragrant, earthy aroma was often used to create royal perfumes. 
What's it Good For?
Joint and muscle pain

 

– Massage the pain away with

 

SenseLAB's gentle basil oil. Strong anti-inflammatory capabilities have been demonstrated in laboratory studies, and may help relieve the pain associated with arthritis, back pain, repetitive motion injuries, sports injuries, and more. Dilute with a carrier oil and combine SenseLAB's ginger essential oil for even more anti-inflammatory benefits.
Bug bites

 

– Basil's anti-inflammatory agents make it a safe, natural method of relieving the itchiness and discomfort caused by bug bites. In addition, antimicrobial properties work at the same time to help prevent infection. Apply our

 

basil oil

 

with a carrier oil to spot-treat bug bites.
Hair health

 

– Add SenseLAB's

 

basil essential oil

 

to shampoo or conditioner and lather into the scalp for an all-around hair makeover. Basil oil works to enhance shine and speed up hair growth by stimulating hair follicles to help hair grow in healthy and strong. The fresh, herbaceous scent is an added bonus!
Nausea

 

– Basil is widely used in folk medicine to keep nausea at bay. Add our basil essential oil to a vaporizer and breathe in the steam. No vaporizer? No problem. Boil hot water, add a few drops of basil oil, drape a towel over your head, and inhale the steam.
Women's health

 

– Menopausal hot flashes, beware! Aromatherapy providers believe basil can increase estrogen and help balance your mood. Massage our basil oil into your feet or the back of your neck to alleviate hot flashes.
How to Use It?
Massage into muscles and joints for pain relief due to inflammation. Dilute with a carrier oil and spot-treat irritating insect bites. Add to shampoo or conditioner and work into the scalp to promote strong, lustrous hair. Breathe in the steam from a vaporizer or bowl of hot water to reduce nausea. Rub into the back of the neck and feet with a carrier oil to alleviate hot flashes and other menopausal symptoms. Pairs well with clary sage, lavender, ginger, bergamot, and grapefruit oils. 
How it's made?
It takes approximately 3 pounds of basil leaves to produce 10 ml of pure SenseLAB Basil Essential Oil.
Basil Essential Oil Physical Properties
Our carefully crafted Basil Essential Oil is steam distilled from the delicate, beautifully aromatic leaves of the Ocimum basilicum plant, growing in the lush valleys of India.
Origin: India
Parts used: Leaves and Tops
Extraction method: Steam distilled
Note classification: Top to Middle
Appearance: Pale yellow to amber yellow colored liquid
Blend ideas of Basil Essential Oil
Basil blends well with Lemon, Rosemary, Lime, Peppermint, Fennel, Clary Sage, and Clove.
SenseLAB "After the Rain" Signature Blend: 
2 drops Basil
2 drops

 Jasmine

2 drops

 Lemon
SenseLAB "Can't stop" Signature Blend: 
1 drop Basil
2 drops Lemon
2 drops Lavender
3 drops Grapefruit
SenseLAB "Awakenings" Signature Blend: 
1 drop Basil
1 drop Spearmint
4 drops Lime
SenseLAB "Mountain Mood" Signature Blend: 
2 drops Basil
2 drops Rosemary
2 drops Lemongrass
1 drop Frankincense
1 drop Cedarwood
SenseLAB "Fatigue Buster" Signature Blend: 
2 drops Basil
3 drops Lime
4 drops Peppermint
Cautions / Safe use
These statements have not been evaluated by the Food and Drug Administration. This product is not intended to diagnose, treat, cure, or prevent disease.
Possible skin sensitivity. Keep out of children. If you are pregnant, nursing, or under a doctor's care, consult your physician. Avoid contact with eyes, inner ears, and sensitive areas.