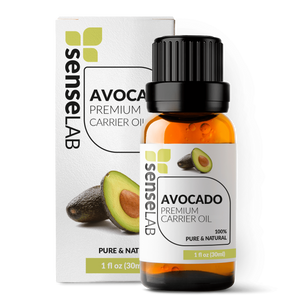 SenseLAB
Avocado Oil
Regular price
Sale price
45,00 lei
Tax included.
---
Plant and Oil Description
Not just for guacamole! The avocado fruit (Yes, it's a fruit!) grows on the persea americana tree in tropical and Mediterranean climates. The plant is native to Mexico, where 34% of the world's supply is still produced. The oldest evidence for avocado use by humans comes from a cave in Puebla, Mexico, dating approximately 10,000 years ago. SenseLAB's avocado oil can be used as a carrier oil or on its own to benefit from its wealth of nutrients.
What's it Good For?
Carrier oil

 

– Many essential oils need to be diluted in a carrier oil so that they may safely be applied directly to the skin. Our non-greasy avocado oil is an excellent choice to use as a carrier oil, particularly for dry and sensitive skin types. 
Dry skin

 

– Moisturize, moisturize, moisturize! Avocado oil is high in vitamin E, which is essential for protecting healthy skin and treating dry, chapped, or irritated skin. Add a few drops of our avocado oil to your regular moisturizer, mix with stronger scented essential oils, or use on its own. The healthy fatty acids in avocado oil may also help to reduce the signs of aging.
Restorative hair treatment

 

– Calm frizz while deeply nourishing dry, damaged hair. Apply directly to flyaways or to the ends of damp hair to protect against split ends. Use as a hot oil mask to improve scalp health and reduce dandruff. Mix with SenseLAB's lavender and

 peppermint essential oils

, which also work to restore hair health.
Sunburns

 

– Avocado oil has a wealth of antioxidants that help reverse the damage done to the skin by sunburns. Vitamins D and E, beta carotene, lecithin, and essential fatty acids all work together to soothe skin and accelerate the healing process. 
First aid

 

– The high quantities of linoleic acid and essential fatty acids found in avocado oil may act as a catalyst to wound healing by promoting collagen synthesis and decreasing inflammation. Use on its own or add to petroleum jelly to help prevent scarring. 
How to Use It?
Avocado oil is naturally mild and can be used directly on the skin or as a carrier oil when mixed with other, stronger aromas. Massage into skin to use as a moisturizer, treat sunburns, or reduce the appearance of scars. Add to wet or dry hair to reduce frizz and help prevent breakage. Apply to closed, shallow wounds to help prevent scarring. Pairs well with lavender, peppermint, lemon, bergamot, rosemary, frankincense, and vanilla oil.
How it's made?
It takes approximately 4 pounds of avocado fruits to produce 10 ml of pure SenseLAB Avocado Oil
Avocado Oil Physical Properties
Our carefully crafted, Avocado Oil is cold-pressed from the soft green flesh of gorgeous, sun-kissed Avocados from Mexico
Origin: Mexico
Parts used: Fruit
Extraction method: Cold-pressing
Note classification: Carrier
Appearance: Greenish yellow colored liquid
Blend ideas of Avocado Oil
Avocado blends well with Rose Damascena, Sandalwood, Vetiver, Frankincense, Cinnamon, Ginger, Lavender, and Clove.
SenseLAB "Bath Oil" Signature Recipe: 
1 tbsp Avocado
4 drops

 Lavender

2 drops

 Roman Chamomile
SenseLAB "Nail & Hand Revitalizer" Signature Recipe: 
6 drops Lavender
4 drops Frankincense
2 drops Tea Tree
1 oz dropper bottle
Fill rest of bottle with Avocado oil
SenseLAB "Face Mask" Signature Recipe: 
1/2 ripe Avocado
1 tbsp Avocado oil
2 drops Patchouli
SenseLAB "Lips Roll On" Signature Recipe: 
2 tsp Avocado oil
4 drops Orange
10 ml roller bottle
Cautions / Safe use
These statements have not been evaluated by the Food and Drug Administration. This product is not intended to diagnose, treat, cure, or prevent disease.
Possible skin sensitivity. Keep out of children. If you are pregnant, nursing, or under a doctor's care, consult your physician. Avoid contact with eyes, inner ears, and sensitive areas.