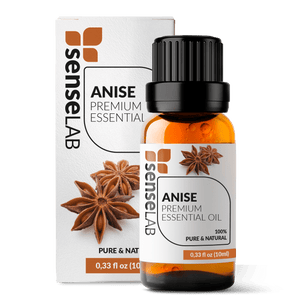 SenseLAB
Anise Essential Oil
Regular price
Sale price
66,00 lei
Tax included.
---
Plant and Oil Description

The star anise evergreen tree, or illicium verum, gets its name from the Latin word "illicio" meaning to entice—and everything about this plant does just that! It bears star-shaped fruit that exude an intoxicating sweet and spicy, licorice-like scent. Star anise has been used in China to treat a wide variety of ailments for thousands of years and is even being studied in modern Western medicine for potential anti-cancer properties.
What's it Good For?
Aromatherapy

 

– The warm, sweet and spicy smell of our

 

star anise oil

 

can be used to promote

 

relaxation, awaken the senses, and create a welcoming atmosphere in your home. This pungent aroma is perfect for use as a natural room deodorizer.
Colds

 

– Star anise is the primary source of shikimic acid, is a compound that is widely used in the pharmaceutical industry for treating influenza. When used in a diffuser or vaporizer, our star anise essential oil can

 

help ease symptoms of the common cold, flu, bronchitis, and pneumonia.
Abdominal discomfort

 

– Apply SenseLAB's star anise oil to the abdomen to help stop the pain and discomfort caused by indigestion, nausea, and cramps.
Women's health

 

– The uplifting effect of our star anise oil is beneficial for alleviating menstrual discomfort and for the heat waves and sweating caused by menopause.
Herpes

 

– Using star anise during the early stages of an HSV-1 outbreak can help to prevent or lessen the effects of the outbreak. Use a cotton swab to apply a small amount to the affected site.
How to Use It?
Add our star anise oil to a diffuser to refresh your home, deodorize target areas, and create an uplifting atmosphere. Add to a vaporizer to alleviate respiratory and congestion issues, and improve women's health issues. Massage into the abdomen with a carrier oil to ease abdominal discomfort. Pairs well with sweet orange, cinnamon, clove, lemon, and rose oil.
How it's made?
It takes approximately 8 pounds of anise seeds to produce 10 ml of pure SenseLAB Anise Essential Oil.
Anise Essential Oil Physical Properties
Our Anise Essential Oil is steam distilled from the seeds of the star-shaped fruits of the Illicium verum plant. A fine oil, it is a colorless to pale yellow amber liquid, having an intensely spicy-sweet, pungent, warm, licorice-like aroma, with a deep balsamic-woody undertone. 
Origin: Egypt
Parts used: Fruits and seeds
Extraction method: Steam distilled
Note classification: Top to Middle 
Appearance: Colorless to pale yellow amber liquid 
Blend ideas of Anise Essential Oil
Anise blends well with Vanilla, Tangerine, Frankincense, Cinnamon, and Orange.
SenseLAB "Candy" Signature Blend: 
2 drops Anise
3 drops

 

Peppermint
1 drop

 

Vanilla
SenseLAB "Adventurous" Signature Blend: 
1 drop Anise
1 drop Cinnamon
1 drop Eucalyptus
2 drops Patchouli
2 drops Lavender
3 drops Cedarwood
4 drops Rosemary
SenseLAB "End of Summer" Signature Blend: 
4 drops Anise
3 drops Orange
4 drops Cedarwood
2 drops Grapefruit
2 drops Rosemary
Cautions / Safe use
These statements have not been evaluated by the Food and Drug Administration. This product is not intended to diagnose, treat, cure, or prevent disease.
Possible skin sensitivity. Keep out of children. If you are pregnant, nursing, or under a doctor's care, consult your physician. Avoid contact with eyes, inner ears, and sensitive areas.